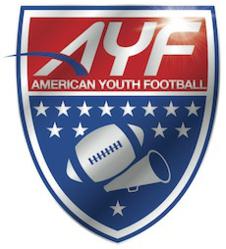 3 million kids ages 5-16 play organized football in the U.S., 1 million of them play in an AYF member program.
New York, NY. (PRWEB) September 01, 2011
This weekend, thousands of communities across the country will kickoff their American Youth Football (AYF) season. While 3 million kids ages 5-16, play organized football in the U.S., 1 million of them play in an AYF member program, making AYF's 2011 membership the largest in the history of organized football. AYF is a national organization that provides youth football communities support services while promoting a mission of giving back.
Recent scrutiny regarding the safety of the sport had many anticipating a decline in youth football participation; on the contrary, AYF experienced the sharpest growth in its history adding 30% more teams to its membership.
AYF attributes that growth to a mix of stringent rules to ensure safety on the field, academic achievement in the classroom, and citizenship in the community.
The bulk of this growth is due to the expansion of established community-run football programs; proving the tremendous success that independent community groups can have creating sustainable programs that positively impact young people. "This growth is a tribute to the exemplary adult leaders coaching football and cheerleading across the USA. While there is no one-size-fits-all for youth sports, AYF lets parents and volunteers decide what is best for their kids and their community. Our job is to support the volunteers so they can spend more time on the field than in the office" says AYF president, Joe Galat.
AYF's core mission is 'giving back to the local community'. This season, that mission is realized by a partnership with Kraft Foods in the Huddle to Fight Hunger. Through the campaign, AYF's thousands of communities will help Kraft Foods and several of their iconic brands on a mission to help donate 25 million meals to Feeding America®, the nation's leading domestic hunger-relief organization. AYF teams will rally their supporters to become part of the team at http://www.Facebook.com/KraftFightHunger – for each "Like," Kraft Foods will donate the monetary equivalent of one meal to a local Feeding America food bank. All season long, AYF athletes will help raise awareness about hunger, volunteer at local food banks and learn the importance of helping their neighbors.
This football season, don't forget that kids are playing right down the street, and it's a game worth watching. For the love of the sport and for the support of your community – go catch a game!
About American Youth Football®
(AYF) is an independent 501(c)(3) non-profit organization that provides support services, scholarships, grants, giving back programs and tournaments to 1,000,000 youth football players and cheerleaders in 50 states and several countries worldwide. AYF is committed to Giving Back and since its inception in 1996, has donated over $15 million dollars in grants and athletic product to communities that support youth football. AYF was the first national organization to offer all-inclusive football divisions, enabling every child a place to play. For more information visit the website at http://www.americanyouthfootball.com.
About Kraft Foods
Northfield, Ill.-based Kraft Foods Inc. (NYSE: KFT) is a global snacks powerhouse with an unrivaled portfolio of brands people love. Proudly marketing delicious biscuits, confectionery, beverages, cheese, grocery products and convenient meals in approximately 170 countries, Kraft Foods had 2010 revenue of $49.2 billion, more than half of which was earned outside North America. Eleven of the company's iconic brands – including Cadbury, Jacobs, Kraft, LU, Maxwell House, Milka, Nabisco, Oreo, Oscar Mayer, Philadelphia and Trident – generate revenue of more than $1 billion annually, and 40 have been loved for more than a century. A leader in innovation, marketing, health and wellness and sustainability, Kraft Foods is a member of the Dow Jones Industrial Average, Standard & Poor's 500, Dow Jones Sustainability Index and Ethibel Sustainability Index. For more information, visit http://www.kraftfoodscompany.com and http://www.facebook.com/kraftfoodscorporate.
About Feeding America
Feeding America provides low-income individuals and families with the fuel to survive and even thrive. As the nation's leading domestic hunger-relief organization, our network members supply food to more than 37 million Americans each year, including 14 million children and 3 million seniors. Serving the entire United States, more than 200 member food banks support 61,000 agencies that address hunger in all of its forms. For more information on how you can fight hunger in your community and across the country, visit http://www.feedingamerica.org. Find us on Facebook at facebook.com/FeedingAmerica or follow our news on Twitter at twitter.com/FeedingAmerica.
###