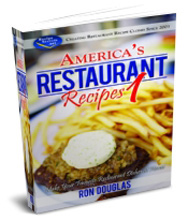 Anybody looking for the most comprehensive collection of the most popular restaurant recipes needs to check out America's Restaurant Recipes by Ron Douglas.
Seattle, WA (PRWEB) December 13, 2012
America's Restaurant Recipes cookbook has finally been released after much anticipation and is giving thousands of readers access to more than one hundred of the most-loved recipes from America's favorite restaurants. Unlike other restaurant cookbooks, America's Restaurant Recipes has reverse engineered secretly guarded recipes from the Nation's most popular restaurants to give readers everywhere the chance to save money by making their favorite dishes at home.
After a quick review of America's Restaurant Recipes cookbook, it is clear that it is one of the most comprehensive collections of the most popular restaurant recipes available on the market. It gives readers the chance to save money, eat healthier, save time and still get all the satisfaction from their favorite dishes. Early users of the cookbook have stated that it provides recipes that taste just like their favorite restaurant dishes, but are easy enough for even beginners to make.
"I have made many of the recipes in this cookbook and have been thrilled every time," said Martina M. "Everybody who gets to taste my cooking says how amazing it is that these recipes taste just like the restaurants!"
KC Mann, another reader of the cookbook, said, "This cookbook has changed the eating habits of my household big time. I love to cook, but seldom took the time to fix anything very different. I am having the time of my life with the recipes that I find."
Using massive amounts of trial-and-error cooking, NY Times Best Selling Author Ron Douglas consulted with professional chefs and collaborated with thousands of other recipe cloners to make the perfect match to restaurant recipes that are kept under lock and key. After developing his recipes, Douglas was invited to national TV shows to hold taste tests with real people who couldn't tell the difference between his recipes and those from the restaurants. America's Restaurant Cook is the compilation of more than a hundred copycat recipes.
Those who wish to buy the cookbook should visit the official site here. On the site, one can order the cookbook plus take advantage of the generous offer being made by Ron Douglas.
Those wanting a complete review of America's Restaurant Recipes can visit the website below.
Ron Douglas has only made a limited number of these cookbooks available at the discounted rate so that he can provide those who invest in the product the best level of service. Included with the cookbook purchase are several bonus offers, including both volumes 1 & 2 of the cookbook. Additionally, three bonus titles on CD are offered with the purchase that give readers access to even more secret recipes as well as education about how to plant, grow and cook with fresh herbs.
To order a paperback copy of the America's Restaurant Recipes cookbook, go to the America's Restaurant Recipes website here.
To read the full America's Restaurant Recipes cookbook review, go to the website below.
Douglas's cookbooks contain recipes from more than 60 of the nation's most popular restaurants including Cheesecake Factory, Four Seasons, California Pizza Kitchen, Olive Garden, Cracker Barrel and more.