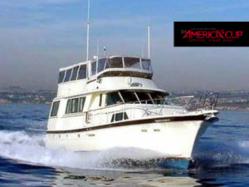 "We are happy to provide the premier location to see the Races. Ringside seats aboard a luxuriously comfortable yacht mean you will view the Races both live on the water and on the big screen with surround sound play by play," said Captain Stephan Sowash
San Francisco, CA (PRWEB) April 17, 2013
Sailing Fearless, a San Francisco based yacht Charter Company, announced today that Odyssey, a 65 foot tri-deck luxury yacht, has been chosen and accredited as an official 34th America's Cup stake boat for the On-The-Water experience. Bookings for corporate, group, and private charters in addition to individual ticketing now available.
"We are happy to provide the premier location to see the Cup Races. Ringside seats aboard a luxuriously comfortable yacht mean you will view the Races both live on the water and on the big screen with surround sound play by play," said Captain Stephan Sowash.
Coast Guard certified for 40 passengers, Odyssey provides an all day experience from 10 am – 4 pm with catering provided by one of San Francisco's finest restaurants Arlequin – of the Absinthe Restaurant Group. A fully staffed professional crew will be attentive to all guests' needs. Docked at Emeryville marina, Odyssey will move past Alcatraz Island to the perimeter of the race course and act as a 'stake' to define the race course boundary to public boats providing an unobstructed view of the world's best sailors comprised of eight teams from ten different countries.
"We welcome our guests, not only for the finals of the Louis Vuitton Series and the America's Cup Race, but to the many days of rigorous practice in between," said Captain Sowash.
Along with premium viewing of the AC72 catamarans, Odyssey offers a live feed and commentary via two big screen satellite televisions inside the cabin, a spacious main salon with wet bar and large seating area with protection from the weather, and a 360 degree view of the bay. With "gyro-controlled hydraulic stabilizers", the yacht provides extreme stability regardless of sea conditions.
America's Cup is being held in San Francisco Bay for the first time since 1851 starting with an opening ceremony on July 4th. Racing starts with the Louis Vuitton Cup, the America's Cup Challenger Series on July 7th, and continues through the America's Cup finals in September.
For more information about booking a Corporate Charter or individual tickets with Odyssey visit http://www.sailingfearless.com.
About Sailing Fearless
Sailing Fearless is a San Francisco based charter company owned and operated by Captain Stephan Sowash. With over 30 years experience on the water, Captain Stephan offers America's Cup Charters and Dinner Cruises on a luxurious 65 foot tri-deck Hatteras yacht U.S Coast Guard certified for 40 passengers. He also Captains a 30 foot Cherubini Hunter for more intimate charters on his 6 passenger sailboat. For further information, please visit Sailing Fearless's website at http://www.sailingfearless.com.
For Charter Bookings contact:
Captain Stephan Sowash
Phone: + (1) 415-745-2292 (San Francisco)
sailingfearless(at)gmail(dot)com
For Media Inquiries contact:
Marketing Director: Jeanne Oberstar
Phone: + (1) 831-239-0011 (San Francisco)
sailingfearless(at)gmail(dot)com