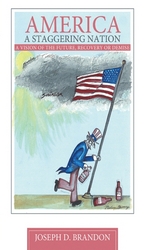 Texarkana, TX (Vocus) October 14, 2010
Joseph D. Brandon believes the United States is losing its way. A gasping economy, increasing threats from abroad and growing political upheaval threaten, he believes, to throw the U.S. into a plummeting tail spin. Brandon's America, A Staggering Nation (published by WestBow Press) lays out how the U.S. has come to this place and what we, as a nation, can do to crawl back from the precipice.
America, A Staggering Nation states in its opening pages that the U.S. has strayed. Strayed from the Christian foundation upon which the framers of the Constitution constructed that historic document.
Says Brandon "America is staggering under indictment due to departing from the Christian faith, deviating from the constitutional government which the fathers intended perpetually to be the guiding rule of law. Furthermore, deviations from the monogamous family and moral values cause divisive and negative repercussions and spiritual declension for which our nation is under indictment of God. There is a clear trend to glorify and normalize sexual perversions. It is nothing short of a direct assault on our moral culture and our traditional way of life."
As America, A Staggering Nation moves forward, Brandon lays out exactly where in the last one hundred years the U.S. stumbled. A loss of Christian perspective in all aspects of post-industrial society has left the U.S. a nation almost unrecognizable to that which the framers had intended. The way back is clear, according to Brandon. "We the people must stand strong and restore our moral values, renew our Christian faith, return to our constitutional moorings, financial strength and leadership as a world power. Those things are the foundation of America and must be restored as presented in [America, A Staggering Nation] for recovery."
Joseph D. Brandon is one of seven children born in a devout Christian family. His father entered into the ministry when Joseph was six and their lives evolved around the church and Christian faith. Joseph received calling into the ministry at age fifteen. He preached his first sermon at age 16 to a youth group in his father's pastorate. For the past forty-nine years, he has served in pastoral and evangelistic ministries. Brandon earned a Bachelor of Science and an associate degree in art at Southwestern Assemblies of God University in Waxahachie, Texas. He has been involved in public education for many years. He is the author of two other books.
About WestBow Press
WestBow Press is a strategic self-publishing alliance of Thomas Nelson, the world's premier Christian publisher, and Author Solutions, Inc. (ASI), the world leader in the fastest-growing segment of publishing. For more information, visit http://www.westbowpress.com.
###