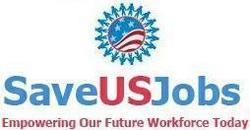 Get rewarded for participating. Join, Be One of Us, and we'll employ America. Our success depends on people working together. Save US Jobs rewards individual contributions by sharing wins, accomplishments, and profits.
Santa Monica, CA (PRWEB) June 22, 2010
Save US Jobs, America's open source recruiting organization, announces the launch of its new collaborative recruiting solutions designed to employ Americans and empower the U.S. economy. As a socially responsible organization, Save US Jobs invites and rewards participation -- companies receive cost-effective staffing solutions, saving them time and money, while individuals have an opportunity to earn passive and residual income in the recruiting industry. Working together, we make a difference and employ America.
The solution to Save U.S. Jobs is crowdsourcing. Those who join Save US Jobs, work together, empower America and share the organization's wins, accomplishments and profits.
The problem: With a 12 percent unemployment rate in the United States, people are having a hard time finding a job. There are many companies that are hiring, but are overwhelmed with the deluge of candidates responding to open positions from job boards. Furthermore, people are paying a lot of money for resume writing services that provide little help in landing a job. Candidates and companies are not connecting, and positions sit unfilled.
The solution: Save US Jobs is both an organization and a self-sponsored cause. The organization's "We Care Weekends" offer personal and professional recruiting services at no cost to employers, people and the community. The cause is financed by placing information technology and engineering professionals, and taking a portion of each placement to subsidize the costs.
The Weekend cause launches in Los Angeles, CA, on July 3, 2010, and offers "no cost" recruiting services for the following disciplines: accounting, finance, human resources, marketing and sales. Any person, company or organization that participates and helps Save US Jobs will be financially rewarded.
How Companies Benefit and Help Make a Difference:
Post a Job, Save a Job
1) Save US Jobs is offering a free job board. Companies posting jobs will help Save US Jobs connect people to jobs. Services provided include interviewing and submitting qualified candidates for open positions, resulting in lowering cost per hire, saving time and money, helping people find jobs and lowering the unemployment rate.
2) Companies that post and send IT/engineering positions will be rewarded with discounted recruiting services for all full time positions for the rest of 2010, resulting in saving time and lowering cost per hire.
3) Save US Jobs protects American jobs by offering cost-effective staffing solutions to any company or startup committed to only hiring US citizens, or US green card residents.
4) Companies that retain Save US Jobs for IT/engineering recruiting and consulting services help make a difference. More placements made by Save US Jobs will increase the size of our staff and interns, and will therefore impact more people on the weekends. It will also help Save US Jobs expand its services to other cities.
How People Benefit and Help Make a Difference:
1) With Save US Jobs, people benefit from getting involved in a worthy cause, working together to help friends and family find employment opportunities. The organization is looking for individuals interested in volunteering and for interns to work on the weekends; the commitment is two hours. People who are out of work will feel connected and productive.
2) Save US Jobs is a co-op and rewards people for their participation. When you join, your efforts positively impact the organization, and you can share in its wins, accomplishments and profits.
3) Earn Passive Income in the Recruiting Industry
To make the greatest impact, Save US Jobs needs to connect with executive decision makers (http://www.saveusjobs.org/?q=node/2).
Each introduction can lead to someone finding a job, and every placement garners profits that will impact your life (earn passive income from recruiting) and positively affect thousands of lives through the organization's "We Care Weekends."
Introduction will garner residual commissions for the lifetime of the relationship. Choose to keep the commission or donate it your favorite nonprofit, church or school.
Save US Jobs' Mission
To empower America by developing employment opportunities for our workforce and investing in their education so they can lead the global economy in discovery, innovation and productivity.
Background
Save US Jobs has built a team with more than 20 years of recruiting experience to support this new jobs, social responsibility and collaborative open source recruiting organization. Carlos Cymerman, Founder, is Mexican-American, and he is passionate about empowering the American workforce by employing Americans. He has focused his career on technology recruiting, psychology and education. The team has worked with major corporations such as JD Powers Associates, Wells Fargo, Aramark, Disney and Fox Interactive Media/ MySpace. Save US Jobs chose Santa Monica as a home base because there are many start-ups and innovation in the community. The company has launched a fan group on Facebook called WeSaveUSJobs. SaveUSJobs also started a LinkedIn Social Responsibility Group.
# # #