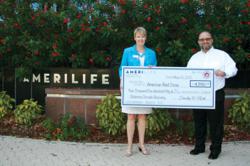 Clearwater, FL (PRWEB) May 29, 2013
Hundreds of Clearwater-based AmeriLife employees contributed to a storm recovery and relief project, raising more than $4,500 for the victims of last week's widespread tornado devastation in central Oklahoma.
In a community outreach campaign called "AmeriLife Goes Denim for Oklahoma," all AmeriLife Place employees who donated to the project are wearing blue jeans and casual attire to work this week. The total raised - $4,550 - was donated this morning to Judy Whitney of the American Red Cross, Tampa Bay chapter. The Red Cross will route the funds directly to the Moore, Oklahoma recovery efforts.
The fund-raising campaign, launched by AmeriLife CEO Timothy North, allowed AmeriLife Place employees to combine their contributions to provide a financial "hand up" to the victims of the EF5 tornado that displaced more than 10,000 Oklahomans.
"When I watched the storm unfold last week - especially the aftermath - I realized that even from afar, we can help," said North. "We've learned that our community outreach projects provide a platform of empowerment for our employees as well as helping others, and this 'AmeriLife Goes Denim for Oklahoma' may be the finest example yet."
Donations were collected Wednesday through Friday last week (CEO North matched Thursday's donations), and on Friday, employees were able to take an hour off their workday for each additional $2 donated, allowing many to leave work early for the Memorial Day holiday.
"Our motto for this project was 'We will make a difference,' " said CEO North. "I'm confident that the compassion and generosity of our employees will do just that: make a difference. I'm just as sure that many other Tampa Bay area businesses will conduct similar projects, for it's likely that someday, we'll need recovery help for a natural disaster ourselves."
"We are very appreciative of the financial support of the AmeriLife employees," said Linda Jorge Carbone, CEO of Florida's West Coast Region of the American Red Cross. "It is this kind of generosity that makes it possible for the Red Cross to help hundreds of thousands of families impacted by disaster each year."
AmeriLife, the nation's premier annuity, health and life insurance marketing group, has a constant community citizenship/outreach program as part of its corporate mission. The organization was named a finalist in December 2012 for the Tampa Bay Business Journal's inaugural Corporate Philanthropy award.
For additional information about AmeriLife, please contact Director of Corporate Communications Wayne Shelor at 727-726-0726 or at wshelor(at)amerilife(dot)com.