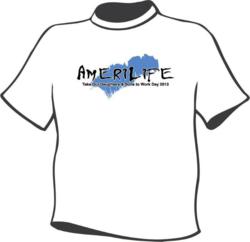 Clearwater, FL (PRWEB) April 23, 2013
Dozens of AmeriLife's subsidiaries' employees' children – ranging in age from 8 to 18 – will spend a workday with their parents tomorrow, participating in the 20th annual Take Our Daughters and Sons to Work day.
With 60 children registered (representing 42 parents), the youngsters will learn about their parents' jobs, tour the three-story, 77,000-square-foot AmeriLife Place complex, participate in workshops and group activities, go to lunch with their parents and watch the Clearwater-based film Dolphin Tale (whose 2011 Florida premier was sponsored by AmeriLife).
AmeriLife's CEO Timothy O. North will see five of his six daughters spend Thursday, April 25, learning about the myriad activities of the company, the nation's premier annuity, life and health insurance marketing group.
Take Our Daughters ... was designed as more than a career-exposure day, and goes well beyond the average "shadowing" of a parent's job. Exposing children to what a parent does during the work day is important, but showing them the value of education, helping them discover the power of a balanced work and family life and providing them an opportunity to share how they envision the future is key to their achieving success.
Upon morning registration, each child (27 ages 8-10; 22 ages 11-14; 11 ages 15-18) will be given a Take Our Daughters ... T-shirt personalized with AmeriLife's "weekend logo" and an AmeriLife backpack filled with everything from company-logoed cups and pens, name badge lanyards and activity workbooks to temporary tattoos and wristbands and coupons for local restaurants. There will also be a T-shirt design contest (for AmeriLife's annual company picnic), raffles and prizes, including a number of tickets for free admission to the Clearwater Marine Aquarium.
Breakfast will be provided to the children, who are encouraged to go out to lunch with their parents. AmeriLife is providing coupons and free kids meals arranged with restaurants (including Chili's, First Watch, Bob Evans, Dominos and Boardwalk Pizza; the children and parents will be away from AmeriLife Place from noon to 1 p.m.).
To make arrangements to chronicle AmeriLife's Take Our Daughters and Sons to Work day, please contact Corporate Communications Director Wayne Shelor at 727-224-0088 or at wshelor(at)amerilife(dot)com by noon on Wednesday, April 24.