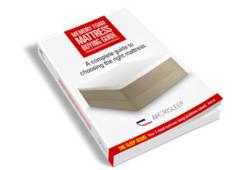 Tempe, AZ (PRWEB) January 22, 2013
Picking out a new mattress can seem confusing, as shoppers face a wide variety of mattress types, features, claims and brands. Memory foam mattress store Amerisleep.com recently debuted a comprehensive buying guide to explain memory foam and its key features, with aim of making the online shopping process simpler.
Amerisleep's memory foam mattress buying guide is the latest addition to the website's extensive collection of consumer resources. It is part of a larger, ongoing effort by the brand aiming to promote buyer awareness, highlight the benefits of online vs in store shopping, and help consumers make better purchasing decisions.
Many people would be surprised to learn that buying a mattress online might actually yield higher satisfaction in the long run, as shoppers can browse resources like buying guides and reviews before making decisions. A 2011 study from the Reseach Triangle Institute indicates a 15-minute showroom test drive actually does not help people chose a comfortable mattress, and surveys from sources like BestMattress-Reviews.org report satisfaction rates between 2-20% higher with online purchases.
The informative buying guide from Amerisleep begins by introducing readers to the basics of memory foam, including its core features and NASA history. It then goes on to explain the primary comfort factors inherent in memory foam beds: density, firmness, and thickness. Density is identified as a measure of weight (per cubic foot in foams), and the guide suggests the ideal density in terms of comfort is between 4 and 5.5 pounds. Firmness is given as a measure of support, with suggestions on how individuals may determine the optimal level. Then, the guide explains how the thickness of mattress layers impacts sleep quality, and the minimum and maximum amounts typically considered comfortable.
Additional topics covered in the memory foam mattress buying guide include IFD, foundations, and shopping tips. IFD, or indentation force deflection, represents the amount of force required to compress foam, meaning higher IFDs indicate firmer foams. They then explain why boxsprings aren't compatible with memory foam, and other tips on foundations. The guide closes with an overview of Amerisleep's key features.
The buying guide will likely prove a useful resource to those considering memory foam, as it provides factual, impartial information covering the basics of the popular mattress type. Amerisleep.com also hosts a range of other educational resources on mattresses and adjustable beds including articles, videos, shopping guides, and more, all aimed at simplifying the shopping experience and providing customers tools for making informed buying decisions.
Amerisleep, owned by online retail collective OneMallGroup, retails highly-rated memory foam mattresses, adjustable beds and related accessories, in business since 2008. The company defines itself by exclusively offering American-made, environmentally sustainable products at competitive prices. Visit Amerisleep.com for more information.