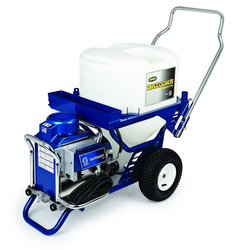 "Companies that have made the conversion to the BAZOOKA CFS have reported savings of three to five man-days per week/per crew," says Mike Brooks, Vice President of Business Development for Ames.
Duluth, GA (PRWEB) March 24, 2011
A revolutionary new drywall finishing device that increases productivity by as much as 40 percent over automatic taping tools, is now available from Ames. The BAZOOKA® Continuous Flow System (CFS) represents the latest generation of a tool Ames pioneered in 1954, which helped establish the company as the nation's leading provider of automatic taping and finishing (ATF) tools, supplies and training.
Designed for high-volume production drywall finishers, the BAZOOKA CFS incorporates the latest advances in taper technology and pump design to improve the speed, quality and efficiency of the professional contractor. The heart of the system is the high-performance BAZOOKA pump that is engineered and built by Graco® specifically for drywall finishing.
GROUNDBREAKING APPROACH
One of the pump's many innovative features puts flow control right at the operator's fingertips, via a radio frequency (RF) controller housed on the inline handle. This use of RF technology – an industry-first – eliminates the need to stop and return to the pump to adjust pump pressure.
New taping and finishing advancements from Ames help improve finish quality with more precision and less fatigue. Re-engineered finish boxes, new corner tools and patent pending ergonomic designs allow contractors to consistently – and continuously – deliver a flawless finished result.
The finishing system delivers up to 1½ gallons per minute, or roughly twice as much as standard pumps that are not specifically engineered for thicker compounds. Because the BAZOOKA CFS puts flow control at the point-of-use, contractors spend more time finishing and less time reloading. Moreover, the inline handle trigger positively stops mud flow with no oozing, which can result from traditional pressure controlled systems.
MAXIMIZING TIME ON WALL
"The BAZOOKA CFS is the first drywall solution to let you finish continuously without having to stop to reload your tool," says Andrew Reed, President and CEO of Ames Taping Tools. "The adage that 'time is money' is especially pronounced in today's competitive construction industry and this tool was designed to turn productivity into profits."
Other innovations include:

Specially-Designed Pump – Graco's rugged Endurance™ Pump and its MaxPower Motor is optimized for drywall finishing and delivers twice the volume as standard pumps.
Multipurpose Tool Filling Station – lets you fill all conventional taping and finishing tools (BAZOOKAS, flat boxes and mud runners) without interrupting the CFS operation. At the end of the day, the pump empties unused compound from the CFS, as well as other finishing tools on the job site.
Precision Corners – apply compound continuously to inside and outside 90-degree corners using the innovative paper-faced bead tool.
Flow Control – start/stop mud flow with no oozing via the industry's first RF Controlled inline handle trigger.
Ergonomic Design – the easy-to-grip, tear-dropped shaped taper weighs only 7 pounds and lets you work all day without strain and fatigue.
25-Gallon Hopper – recycle used compound and job site mud and the internal hopper filter will remove impurities so the system is job-ready the next morning.
Innovative Tools – redesigned taper is 50 percent lighter, while the re-engineered finishing box system maximizes finish quality and the patent-pending pivoting head improves mud flow.
Easy Clean Up – just run water through the pump and power-wash job site tools in the large capacity hopper.
BOOSTING SPEED AND PRECISION
"If you know how to use a conventional automatic taper, stepping up to the BAZOOKA CFS requires virtually no training," says Mike Brooks, Vice President of Business Development for Ames, who attributes the product's simplicity and speed to careful engineering and extensive job-site testing. "The innovations and finishing efficiencies represented in the BAZOOKA CFS demonstrates Ames' commitment to the ATF industry."
According to Brooks, companies that have made the conversion to the BAZOOKA CFS have reported savings of three to five man-days per week/per crew. Others have reported production increases of 50 percent or more.
"What if each of your crews could finish just 30 percent more drywall per week using the BAZOOKA CFS," asks Brooks rhetorically. "Any tool that lets contractors increase productivity while maintaining or enhancing quality, is a wise investment."
For additional product information or to request a demonstration, call 888-BAZOOKA.
ABOUT GRACO INC.
Graco Inc. supplies technology and expertise for the management of fluids in both industrial and commercial applications. It designs, manufactures and markets systems and equipment to move, measure, control, dispense and apply fluid materials. A recognized leader in its specialties, Minneapolis-based Graco serves customers around the world in the manufacturing, processing, construction and maintenance industries. For more information, visit http://www.graco.com or call 877-844-7226.
ABOUT AMES TAPING TOOLS
Headquartered in Duluth, Georgia, Ames Taping is the industry's leading provider of drywall finishing tools, supplies and training. Ames invented the automatic taping and finishing tool technology in 1939 and improved it with the introduction of the Bazooka in the 1950's. This technology dramatically improves the speed, quality and efficiency of the professional finisher. Ames supplies, supports and services residential and commercial interior finishing applications through a network of company-owned and franchise operations in over 180 locations across the U.S. and Canada. For more information, visit amestools.com or call 800-241-2771.
Product demonstrations and informational videos are available online at
youtube.com/user/AmesTapingTools
# # #