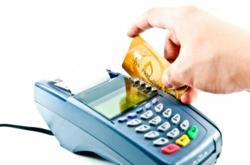 American Express and Discover market and issue their cards directly to the card holder and poise themselves to a higher customer cache.
EL SEGUNDO, CA (PRWEB) April 29, 2013
According to CreditCards.com, there were more than 473 million MasterCard and Visa credit cards in circulation as of 2009. Compare this with just 54.4 million Discover cards, and it's easy to wonder if the lack of acceptance on the part of merchants is the reason why so few cardholders opt for the latter brand.
GoBankingRates investigated why Discover is not accepted everywhere, finding it comes down to credit card processing fees and how Discover positions itself differently than its plastic competitors.
Technically, the report reveals, it's not a matter of retailers rejecting Discover as a form of payment, rather that Discover is different because merchants choose to accept it.
GoBankingRates expert contributor, Paul Sisolak, explains that the more commonly approved Visa and MasterCard actually work with a variety of banks who offer Visa and MC-branded credit and debit cards, and offer services beyond simple lines of credit, such as fraud protection, purchase protection, and extended warranties.
"American Express and Discover, on the other hand, do not," Sisolak states, adding, "They market and issue their cards directly to the card holder and poise themselves to a higher customer cache."
Due to its more specific, affluent target audience Discover also charges higher merchant credit card processing fees, which may explain why some businesses "opt out" or "opt in" to accepting it at their cash registers.
While some cardholders may appreciate the "exclusivity" of owning a Discover card and the particular perks that come with it, others may take its limited acceptance into consideration when choosing their next card, opting for a more widely accepted Visa or MasterCard.
Click here to read the full report.
For questions about this report or to schedule an interview with a GoBankingRates editor, please use the contact information below.
About GoBankingRates
GoBankingRates.com is a national website dedicated to connecting readers with the best interest rates on financial services nationwide, as well as informative personal finance content, news and tools. GoBankingRates collects interest rate information from more than 4,000 U.S. banks and credit unions, making it the only online rates aggregator with the ability to provide the most comprehensive and authentic local interest rate information.
Contact:
Jaime Catmull, Director of Public Relations
GoBankingRates.com
JaimeC(at)GoBankingRates(dot)com
310.297.9233 x261
###
Source: Credit Cards.com, Credit card statistics, industry facts, debt statistics.