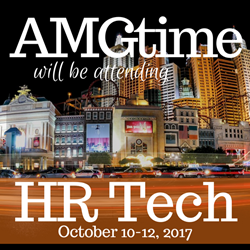 Stop by AMGtime's booth 3846 at HR Tech, to learn more about the recent technology updates in time and attendance and workforce management
Las Vegas, NV (PRWEB) October 09, 2017
AMGtime will be showcasing their innovative workforce management solutions at this year's HR Technology Conference and Exposition, located at the Venetian Hotel in Las Vegas, from October 10-12. AMGtime will be situated in booth 3846, where professionals will learn about AMGtime software for time and attendance, top-of-the-line biometric hardware devices, mobile apps, specialized industry solutions, payroll integrations, and much more.
Some of the most recent additions to AMGtime's innovation solutions will be showcased within the booth. For one, GPS workforce tracking on AMGtime's mobile apps, which will allow employers to see exact locations of where employees transact, as well as their movements while on route during work hours. Secondly, AMGtime has created a way to convert HandPunch time clocks into wireless and real-time devices. Lastly, they will be discussing the exciting addition of their Advanced Scheduling Module, which will be released sometime in Q4'2017. In addition, AMGtime's innovative time and attendance solutions are integrated with over 110 different payroll companies including: ADP, PayChex, , and some are seamlessly integrated, such as QuickBooks, Evolution, AllPay and Cloud Payroll.
HR Tech is renowned as the largest HR technology and services exposition in the world, providing attendees to learn about the most advanced technological innovations in the field of human resources. For 20 years, HR Tech has been helping professionals discover HR management solutions and take back new and exciting strategies to their organizations. Aside for vendors exhibiting innovative offerings, there will be speakers discussing topics such as women in HR technology, business process, organizational success, among more. Laszlo Bock will be opening as a keynote speaker followed by: Patricia Milligan, Gretchen Alarcon, Trish McFarlane, Cecile Alper-Leroux, Christina VanHouten, Kim Seals, Amy Wilson, Josh Bersin and more.
Stop by AMGtime's booth 3846, to learn more about the recent technology updates in time and attendance and workforce management. Make sure to play the guesstimating game for a chance to win an Amazon Echo dot.
About the Company
With 24 years of experience, Los Angeles-based AMGtime has made its mark as a national leader in providing time and attendance solutions. AMGtime provides easy to use and flexible time and attendance products and services, including software available on both the cloud and PC, top of the line biometric hardware, mobile applications, specialized industry solutions, and much more. AMGtime's solutions are customizable and adaptable for basic to complex configurations, simple to implement, and inexpensive, providing organizations with the highest level of efficiency and ROI.