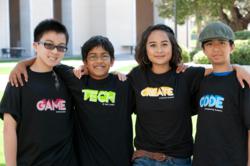 iD alumni have gone on to found gaming studios, publish technology books, and build web design businesses.
Campbell, CA (PRWEB) March 28, 2012
New Amherst summer camps will be hosted this summer by iD Tech Camps, the nation's leading summer technology program for students ages 7-17. During weeklong, day and overnight sessions, students learn how to design video games, create iPhone® apps, program in C++ and Java, and more.
The new summer camp in Amherst will be held at Amherst College in Amherst, MA – the Five College Area in Western Mass. – to give students a motivating pre-college experience. As they build essential STEM (Science, Technology, Engineering, and Math) skills, students will also be exposed to the campus, learn in the labs, and eat in real dining halls. Overnight students will even stay in the dorms. With this early introduction to a college atmosphere, students can get a feel for what kind of college they would like to one day attend – perhaps even Amherst College.
During each session, students learn in small classes and complete hands-on projects. Because iD Tech Camps guarantees a maximum of 8 students per instructor, all students receive personalized instruction and guidance in their final projects. Past students have created impressive projects such as iPhone® apps that they eventually publish and sell in the Apple® store. Sometimes students even turn their summer camp experiences into careers – iD alumni have gone on to found gaming studios, publish technology books, and build web design businesses.
Other iD Tech Camps sites celebrating their inaugural seasons include a Las Vegas summer camp held at UNLV and a New Mexico summer camp held at the University of New Mexico. See internalDrive.com for details on other new locations and other programs, including specialized two-week Academies for Teens in Gaming, Programming, and Visual Arts.
ABOUT iD TECH CAMPS AND iD TEEN ACADEMIES
iD Tech Camps and iD Teen Academies engage students in STEM education with teen summer programs held at 60 prestigious universities nationwide. Learn how to make iPhone® apps, how to create your own video game, how model 3D animations with Autodesk® Maya®, how to build a website with Flash®, and more. Sessions are weeklong, day and overnight for students ages 7-18. Learn essential technology skills in small classes while attending sessions held at universities such as Stanford, UCLA, Princeton, and more. Teens preparing for college can build online portfolios and explore future career paths at iD Gaming Academy, iD Programming Academy, and iD Visual Arts Academy. Visit http://www.internalDrive.com or call 1-888-709-TECH (8324) for more information.