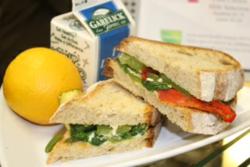 The students are getting fresh, local, restaurant-quality food.
Islandia, NY (PRWEB) December 07, 2012
As part of Whitsons School Nutrition's Local Initiative, Amherst High School enjoyed a delicious lunch prepared by a Guest Chef with fresh ingredients from local farms and businesses.
On November 30th Amherst High School hosted a very special "Guest Chef Day", featuring fresh products sourced from local farms and businesses. Chef Rich Sandmann from Whitsons School Nutrition and Rebecca Trietley, Food Service Director at Amherst School District, created a wholesome menu using ingredients from the following local establishments:Henion Bakery, from Amherst, MA; Viva Fresh Pasta from Northampton, MA; Atkins Farms from Amherst, MA; and Joe Czajkowski Farm from Hadley, MA. This menu included dishes for all tastes and preferences, such as a hearty butternut squash soup, vegetarian paninis, a fresh pasta dish, local chicken fajitas, a fresh salad and a sausage and vegetable pizza.
Not only were the students very pleased with the menu, but teachers and staff agreed it was a success! According to Mary Wallace, District Treasurer, "the students are getting fresh, local, restaurant-quality food. It was delicious!" Due to the success of this event, Amherst Middle School will host a Local Day on December 19th featuring the same local vendors.
The Guest Chef Going Local event at Amherst High School is part of Greenleaf Cuisine, Whitsons' local produce initiative. Whitsons School Nutrition is committed to supporting local farmers by sourcing produce locally whenever seasonally available. The main goal of Greenleaf Cuisine is to provide the very best produce the region has to offer, fresh from farm to fork.
About Whitsons School Nutrition
Whitsons School Nutrition provides a wide range of highly customized dining services to public and private schools, with a strong focus on nutritious, high quality menus made from fresh, wholesome ingredients. Whitsons has a long and proud history of excellence and growth since 1979 and currently ranks the 16th largest dining company in the United States (Food Management magazine, September 2011). In addition to school nutrition, Whitsons' scope of expertise and services extends to: emergency dining, residential and healthcare dining, prepared meals, and school dining and services.