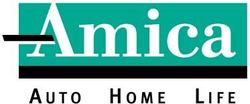 It's important to have emergency supply kits in your home and car so you're prepared for anything winter throws at you
Lincoln, RI (Vocus) November 29, 2010
One of the best things you can do to get ready for winter is to make sure you've got emergency supplies on hand to deal with the unexpected.
"It's important to have emergency supply kits in your home and car so you're prepared for anything winter throws at you," said Sean Welch, a senior assistant vice president with Amica Insurance.
It's also a good idea to always have your cell phone charged and your gas tank full, especially when there is a storm forecast, Welch said. In addition, make sure you have emergency supplies at home in case a storm strikes. These should include:

Extra drinking water
Non-perishable food
Essential prescription medicines
Baby supplies
Flashlights and extra batteries
A battery-operated radio
Extra blankets and sleeping bags
A first aid kit
It's also important to keep emergency supplies in your car, in case you get stuck in a storm while traveling, Welch said. These include:

Extra winter clothes, including a coat, hat, gloves and boots
Blankets
An ice scraper and brush
A shovel, as well as a bag of sand for tire traction
Jumper cables
Flares
A flashlight
A first aid kit
"Hopefully you won't ever need to use them, but it's better to be safe just in case," Welch said. "Winter weather can be dangerous, so you never know when your emergency supplies will come in handy."
About Amica Mutual Insurance
Amica Mutual Insurance Company, the nation's oldest mutual insurer of automobiles, was founded in 1907. The company, with corporate headquarters in Lincoln, RI, is a national writer of automobile, homeowners, marine and personal umbrella liability insurance. Life coverage is available through Amica Life Insurance Company, a wholly owned subsidiary. Amica employs more than 3,200 people in 40 offices across the country.
CONTACT: Vince Burks , Corporate Communications, 50 Amica Way,
Lincoln, RI 02865-1155, 800-652-6422, ext. 24563
Website: Amica.com
Twitter: AmicaMutual
Facebook: Amica Mutual Insurance Co.
###