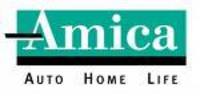 Lincoln, RI (Vocus) February 24, 2010
Amica Mutual Insurance Co. has again earned a spot on BusinessWeek's list of "Customer Service Champs" -- for the fourth year in a row.
The magazine ranks the top 25 customer service providers across a variety of industries, including retail, travel, hospital and finance, based on a combination of factors and surveys. The rankings are based on data supplied by J.D. Power and Associates, as well as a survey of members of BusinessWeek's Market Advisory Board.
Amica moved up a notch in this year's rankings, from 15th to 14th place among the top 25 "Customer Service Champs" among all industries nationwide. The magazine not only ranks the best customer service providers, but also details the strategies they use to deliver great service.
Here's what BusinessWeek said about Amica: "The insurance company's long-tenured employee base has a turnover rate of just 2% a year, and customers are similarly stable, with retention rates at about 95%. New technology for Amica's telecommunications system taps agents in other offices when call volume at a customer's local branch gets particularly high, such as after a hurricane or other catastrophe."
Robert A. DiMuccio, the company's chairman, president and CEO, gives full credit to Amica's more than 3,200 employees, saying: "This national recognition proves once again what we've known all along: We have the winning combination for success here at Amica. We have employees who are committed to serving our customers. And we have customers who appreciate that when they call Amica, a real person answers the phone – and gets them the help they need."
The rankings are included in the March 1 edition of BusinessWeek magazine, which is available on newsstands now or online at World-Class Customer Service.
Amica also recently was notified that it again has received a rating of A++ (Superior) from A.M. Best, a leading insurance industry analyst and the nation's authority on insurance company financial stability. A.M. Best reaffirmed the A++ financial strength rating given to the lead company, Amica Mutual Group, as well as its affiliates, Amica Lloyd's of Texas and Amica Property & Casualty Company. These A.M. Best ratings reflect the respective Amica companies' outstanding capitalization, solid operating performance and well-established market positions.
Amica Mutual Insurance Company, the nation's oldest mutual insurer of automobiles, was founded in 1907. The company, with corporate headquarters in Lincoln, RI, is a national writer of automobile, homeowners, marine, and personal umbrella liability insurance. Life coverage is available through Amica Life Insurance Company, a wholly owned subsidiary. Amica employs more than 3,200 people in 40 offices across the country.
###