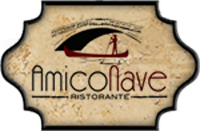 Amico Nave (Translation: "Friend of the Ship) is the sister restaurant to Shipwreck Grill
Bryan, TX (PRWEB) June 19, 2013
Amico Nave Ristorante, the Italian food sister restaurant to Shipwreck Grill, captures the Italian heritage of the community and provides a new online reservation resource to customers.
AgniTEK, a nationally-recognized company for their expertise in helping organizations leverage technology to improve businesses, is pleased to announce the launch of a new and improved website for Amico Nave Ristorante at http://www.amiconave.com. The new website was designed and created by AgniTEK associates and ready to launch.
Amico Nave (Translation: "Friend of the Ship) is the sister restaurant to Shipwreck Grill and is a tribute to the owners Step-Father, Tony Salvaggio, and his family who immigrated to the Bryan area from Sicily. Tony was born in Bryan in 1931 and graduated from Texas A&M in 1956 following his enlistment to the US Navy. Tony began teaching Wade Beckman, the owner, to cook Italian food at a young age and many of the recipes at Amico's are authentic to Tony's family. Wade and Mary Beckman are pleased to open a restaurant in Bryan that captures the Italian heritage of the community. To learn more about Amico Nave Ristorante, visit their website.
The new website provides viewers with an easy and organized way to learn all about the restaurant and what it offers. The new site features an easy way to make reservations online, which will make it easy for customers to get a table at the time of their choice. This new and improved website provides Amico Nave with a simple and efficient way to take reservations as well as provide an easy to access online resource to help keep customers informed.
AgniTEK is a full service website design and software solutions company serving Texas companies for over 15 years. They deliver reliability, consistency, simplicity and value in website services and software application development work. AgniTEK has been named a five-time Newman 10 Award winner and three-time Aggie 100 Award winner.