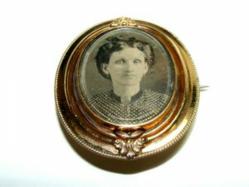 I remember thinking, who are those white people she had kept in that jewelry box all those years?
Las Vegas (PRWEB) March 08, 2012
A black Las Vegas woman who claims she is a descendent of the first grand wizard of the Ku Klux Klan has been contacted several times about a historical brooch that bears the likeness of early Klansman Nathan Bedford Forrest who died in 1877. Adele Jeter was interviewed about her controversial family lineage last week on the Las Vegas-based "On the Go with Amie Jo" program.
"Dr. Jeter is a descendent of the slave side of the Forrest family," said Amie Jo Greer, who hosted the television program.
Though some claim the brooch is a fake, Jeter, who owns the piece of jewelry, said people tied to the KKK have demanded that she give the brooch to the organization.
According to Jeter, her great-grandmother, who was one of Forrest's slaves, claimed that she was raped and had two children with Forrest's grandson, who was also a member of the Ku Klux Klan. But Jeter thinks the couple might have been in love.
"I believe they had a love affair. She was 15 and he was 19 or 20," Jeter said.
She said as a child she often saw the brooch in her great-grandmother's dresser.
"I remember thinking, who are those white people she had kept in that jewelry box all those years? She hated white people," Jeter said. "I was taught as a kid not to touch the brooch."
Greer's interview with Jeter aired March 2 on Vegas TV-KTUD Channel 25 and Cable Channel 14 in the Las Vegas area.
Greer said she "was a little skeptical at first to even embark upon this."
She said she was shocked to learn that a prominent member of the KKK like Nathan Bedford Forrest had such deep connections to generations of black people.
"We hit on a lot of different points," Greer said about her interview with Jeter. "The big question in my mind is how did Dr. Jeter's family obtain the expensive brooch in the first place if they were not somehow connected?"
Descendents of Forrest had at one point requested a DNA test to clarify the matter, Jeter said, adding that family members later withdrew the request.
"Once they started getting some national attention they withdrew it," she said.
The brooch reportedly contains pictures of Forrest and his wife Mary Ann Montgomery.
"You can see him on one side and with a magnifying glass you can see his wife Mary Ann wearing the brooch on the other side," Jeter explained.
Forrest was influential in the founding of the KKK, an organization that terrorized black people in the 19th and 20th centuries, she added.
Those associated with the KKK have offered to buy the brooch, Jeter said. But the 72-year-old woman has so far refused to sell.
Visit http://corner4success.com/tv_show for information about upcoming episodes of the "On the Go with Amie Jo" show.