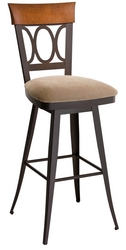 Strained budgets due to higher prices for basic commodities are driving people back into their homes: 72 percent spend a good deal of time at home.
Houston, TX (PRWEB) March 12, 2009
Home and Bedroom Furniture has just added Amisco Bar Stools to its selection of Pastel and Hillsdale Bar Stools. And to celebrate that announcement, the online discount bedroom furniture retailer is extending a 10% "Recession Buster" savings to its already discounted price for the next month. Customers can take advantage of the extra reduction on Home and Bedroom's full line products from now until September 31st. Home redecorators who would like to give their bar rooms, breakfast counters and outdoor entertainment centers a new look can browse all the Amisco Bar stool Options online at Home-and-Bedroom.com.
In recent years, Barstools and Counter Stools have enjoyed a surge in popularity thanks to their many uses. What used to be a furniture piece that was reserved strictly for home bars, cocktail lounges and night clubs, is now being put to use in a wide range of rooms and ambiances. Dining counters and islands, outdoor bistro tables and cabana serving areas are all calling for bar stool seating. To accommodate this rise in demand, Home and Bedroom Furniture has expanded its already large lineup of Stools. This increase in inventory gives shoppers one of the widest selection of choices when shopping for seating for their home bars, casual dining spots and outdoor living spaces.
Amisco manufactures contemporary Metal Bar Stools and Kitchen Counter Stools for pubs, bistros and other entertainment areas. The company offers numerous finishes and fabrics to accommodate any decorating style. From modern and sophisticated to classic and elegant, homeowners will find just the Bar Stool they're seeking from among the Amisco selection. In addition, their Stools are made to order in 7 to 10 days, providing custom attention to detail in a surprisingly short time and at reasonable prices.
According to a recent survey by Faith Popcorn's BrainReserve, "Strained budgets due to higher prices for basic commodities are driving people back into their homes: 72 percent spend a good deal of time at home." Of these individuals, "43 percent are spending to feather their nests, with home entertainment at the top of the list."
"What more enjoyable way to entertain at home than in the intimate conversation setting that Bar Stools can create," points out Home and Bedroom Furniture spokesperson, Ben Weissman. "And the "Recession Buster Sale" comes just in time to prepare your Patio, Home Bar or Kitchen with a new and inviting look for Spring and Summer. From now until April 30th customers can take advantage of this additional 10% discount by entering the words "recession-buster" into the coupon box at the bottom of every checkout page."
Homeowners who want to give their homes a new look for the spring and summer season can see all of Home-and-Bedroom's full line of Discounted Amisco, Hillsdale and Pastel Bar Stools by visiting their online store at http://www.home-and-bedroom.com .
###