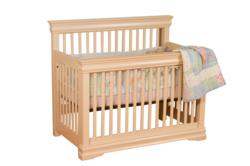 We work with the best Amish craftsmen and use the best materials to create the best possible furniture.
Shipshewana, Indiana (PRWEB) August 03, 2012
As seasonal visitors continue to visit Northern Indiana's Amish country in large numbers, Brandenberry Amish Furniture introduced a new collection of Amish convertible cribs to thrill furniture-lovers and visitors to Amish country. Each convertible crib is crafted according to Brandenberry's philosophy of collaboration, stated by sales representative Alice as, "Working with the best Amish craftsmen and using the best materials to create the best possible furniture."
The Louis Phillippe Convertible Crib features sturdy wood slats, a rich wood finish and a stately design. The high quality construction is matched only by the high degree of safety with which this piece was built—ALL surface coatings are tested and certified to rigorous federal standards to ensure safety.
The convertible Celebrity Crib, featured in Brown Maple, possesses subtle curves and arched panels which give a sense of elegance. A deep Tobacco stain brings forth the natural beauty of the hardwood construction and ensures decades of preservation.
Both the Louis Phillippe and Celebrity Convertible Cribs can be easily converted from cribs to day beds and then to full-size beds. Simple instructions are provided with each crib to ensure anyone can easily convert their crib with only a few basic tools. The inspired design of these Amish-crafted cribs conceals obvious joints and hinges and provides incredible durability to each crib, day bed and full size bed.
To check out all of the convertible cribs at Brandenberry Amish Furniture, visit them online and browse detailed photographs with full descriptions and custom options. You'll also find company history, a question and comment box, shipping policies, and a map to their physical store location. For furniture-enthusiasts who wish to see Brandenberry's furniture first-hand, visit their store location in Shipshewana, Indiana and discover what makes their Amish furniture renowned.
About Brandenberry Amish Furniture:
Brandenberry Furniture features furniture custom-crafted in the heartland the Amish way. Many of the furniture pieces are exclusively designed and built for Brandenberry clients or the Brandenberry showroom in Shipshewana. LeRoy and Ida Weaver established their first Amish furniture store in 1989 in Shipshewana, Indiana, before opening Brandenberry Furniture in 2008.
They maintain two family-owned and operated businesses offering a full line of solid wood, Amish Furniture at affordable prices. In addition to providing a wide selection of home furniture, Brandenberry Furniture offers a range of services, including layaway and delivery options, custom furniture design consultation, price quotes and exclusive sales.