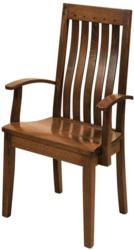 Each of these chairs present another step forward for Weaver Furniture Sales and our commitment to beautifully handcrafted furniture.
Shipshewana, Indiana (PRWEB) August 02, 2012
Just in time for the seasonal shopping rush, Weaver Furniture Sales introduces a new selection of solid wood dining chairs. Crafted by local Amish artisans using Midwestern hardwoods and traditional construction methods, each dining chair features durability, timeless styles and a full selection of custom options. These qualities have continued to make Weaver's a big name in the world of solid wood furniture.
The recently debuted Fresno Dining Chair features a twist on the classic Mission style. Featuring curved wood slats, ebony inlays (in the headboard and seat), extra-durable joints and bowed arms, the Fresno Dining Chair (shown in Quarter Sawn White Oak) boasts a rich finish and simple elegance. Like the Mission style, the Fresno design was inspired by the architecture and beauty of the American West. And like every piece at Weaver's, this chair can be customized in every possible way.
In the same way that the Fresno Dining Chair presents a twist on the classic Mission style, the brand new Martina Dining Chair offers a unique take on the Shaker style. Featuring thin wood slats, a gently bowed headpiece and curved legs, the simplicity and graceful design of the Martina Dining Chair finds its roots in traditional furniture styles, but possesses an entirely original appeal. Inquire with Weaver's to discuss converting this dining chair into a desk chair, including plush upholstery and a gas lift.
While the Fresno and Martina style are rooted in traditional Amish furniture designs, the recently introduced Stanwood Dining Chair is marked by originality and a one-of-a-kind style. Featuring carved front legs, a gently flared back and a deep wood finish, the Stanwood Dining Chair brings together the Amish ethics of tradition and innovation like few other pieces. Also available as a swivel or stationary bar stool, this chair is destined to become a popular piece at Weaver's. Sales representative Jason describes Weaver's new chairs stating, "Each of these chairs present another step forward for Weaver Furniture Sales and our commitment to beautifully handcrafted furniture."
To learn more about Weaver Furniture Sales' newest dining furnishings, visit their online store or stop by their physical Shipshewana furniture store location (located in the heart of Indiana's Amish country).
About Weaver Furniture Sales:
Weaver Furniture Sales was established in 1989 in Shipshewana, Indiana, and is an Amish, family-owned furniture business that offers a full line of solid wood, Amish Furniture at affordable prices – for both residential and commercial purposes. Weaver Furniture Sales features shaker styles, traditional and mission furniture. As part of their client services, Weaver Furniture Sales provides furniture design consultation services, custom furniture options, furniture quotes, layaway options and various delivery alternatives for residences and businesses in the United States from their quiet country showroom in Shipshewana, Indiana.
LeRoy and Ida Weaver have owned and operated Weaver Furniture Sales for over twenty-two years, beginning with a 1,500 square foot showroom and expanding to over 15,000 square feet today. Previously, they owned and managed LeWana Dairy Farm where they milked cows and raised corn and hay.