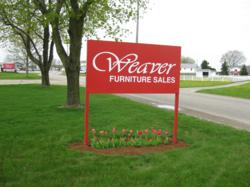 Weaver's is a proud member of the Northern Indiana community and excited for the 2013 Quilt Garden tour to begin!
Shipshewana, Indiana (PRWEB) May 24, 2013
Northern Indiana is noted for a large Amish population, buggies, unique Amish dining, craft shops and solid wood furniture but yet countless entertainment events and other cultural experiences await visitors each year. The summer of 2013 is no different. Furniture source Weaver Amish Furniture Sales has been part of the Northern Indiana community for more than two decades and is proud to once again be an official site on the Quilt Gardens along the Heritage Trail.
Weaver Furniture Sales staff and associates are diligently preparing the soil, planting the flowers and preparing to display the 2013 Weaver Fever Quilt Garden. The garden presents a color scheme with variations of pinks and blues. Tour visitors will see Fields of Light Blue Ageratum, Tequila Deep Rose Begonias and Blackberry Vinca flowers among other blooms and quilt garden accents that will complete the Weaver Fever Quilt Garden Design.
Store founder LeRoy Weaver says, "Weaver's is a proud member of the Northern Indiana community and excited for the 2013 Quilt Garden tour to begin!"
The 2013 Quilt Gardens are all-new, ever-changing and always free! Visitors should plan to see nineteen all-new quilt patterns and more than a million blooms as they travel through seven distinctly different Northern Indiana communities along the nationally-recognized Heritage Trail. Twenty hand-painted, quilt themed murals will complete the tour experience. Visitors can enjoy this self-guided tour at their own pace and it's the only one of its kind in the world and viewable free each year. For additional information, visit QuiltGardens.com.
About Weaver Furniture Sales:
Weaver Furniture Sales was established in 1989 in Shipshewana, Indiana, and is an Amish, family-owned furniture business that offers a full line of solid wood, Amish Furniture at affordable prices – for both residential and commercial purposes. Weaver Furniture Sales features shaker styles, traditional and mission furniture. As part of their client services, Weaver Furniture Sales provides furniture design consultation services, custom furniture options, furniture quotes, layaway options and various delivery alternatives for residences and businesses in the United States from their quiet country showroom in Shipshewana, Indiana.
LeRoy and Ida Weaver have owned and operated Weaver Furniture Sales for over twenty-three years, beginning with a 1,500 square foot showroom and expanding to over 15,000 square feet today. Previously, they owned and managed LeWana Dairy Farm where they milked cows and raised corn and hay.