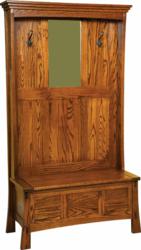 People who love Amish furniture appreciate the storage space and practical design of the Modesto Hall Seat.
Shipshewana, IN (PRWEB) July 17, 2012
Weaver Furniture Sales, an Amish furniture store located in Shipshewana, Indiana, recently began selling the new Modesto Amish Hall Seat. Shipshewana is a small town in the heart of Indiana's Amish country that draws tourists year-round to browse the Midwest's largest flea market, enjoy the local family style restaurants and Amish eateries and visit the local Amish furniture retailers.
The Modesto Hall Seat features regional hardwood construction, space-efficient storage seating, a mirrored back and sturdy coat hooks. Owner LeRoy Weaver points out the practicality of this hall seat, noting, "People who love Amish furniture appreciate the storage space and practical design of the Modesto Hall Seat."
Since Weaver Furniture Sales began, they have offered original and customizable furniture to the public by working with local Amish craftsmen and collaborating with their clients. This creative approach to furniture has earned them a reputation as a source for one-of-a-kind furniture that meets the needs of an ever changing client base. Consistent with other furniture designs at Weavers, the new Modesto Hall Seat may be customized to fit the client's space and design requirements.
About Weaver Furniture Sales:
Weaver Furniture Sales was established in 1989 in Shipshewana, Indiana, and is an Amish, family-owned furniture business that offers a full line of solid wood, Amish Furniture at affordable prices – for both residential and commercial purposes. Weaver Furniture Sales features traditional styles, mission and shaker furniture and a wide variety of benches and hall seat furniture. As part of their client services, Weaver Furniture Sales provides furniture design consultation services, custom furniture options, furniture quotes, layaway options and various delivery alternatives for residences and businesses in the United States from their quiet country showroom in Shipshewana, Indiana.
LeRoy and Ida Weaver have owned and operated Weaver Furniture Sales for over twenty-two years, beginning with a 1,500 square foot showroom and expanding to over 15,000 square feet today. Previously, they owned and managed LeWana Dairy Farm where they milked cows and raised corn and hay.