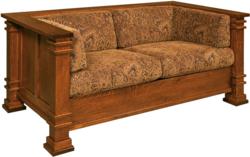 Shipshewana, Indiana (PRWEB) November 18, 2011
During the busy Holiday season, Shipshewana is hosting a variety of relaxing, family-friendly events, during which Brandenberry Amish Furniture, a custom furniture and gift store, will have open doors and special sales for holiday shoppers.
Chocolate Day takes place on November 19th where shoppers can walk and drive around Shipshewana to shop and a chance to collect sweets at every stop. Stop by Brandenberry for some delicious chocolate treats! Then, the annual "Christmas Tree Walk" runs from December 3rd-30th and features beautiful decorations and a special "Santa Day" for children from 11 a.m.-3 p.m.
In the heart of winter, come check out the "Shipshewana Ice Festival" on December 28th-30th and watch teams of talented ice-carvers crafting holiday themed sculptures from 10 a.m.-8 p.m. This event must be seen-to-be-believed!
Also, the original musical "The Confession", has been impressing audiences since its opening in the summer. Come check out this one-of-a-kind production showing exclusively in Shipshewana.
Finally, stop by the Shipshewana Town Center on December 30th and watch the snowmobile races and the tasty chili cook-off! Visitors can purchase a special collector's pin designed by students from Westview High School and gives FREE admission to the chili cook-off.
Other events in November and December include a Wana Night out shopping experience, Holiday Pops with Fort Wayne Philharmonic at the Westview Wilson Auditorium, a variety of special horse auctions and many Holiday Sales promotions.
As always Brandenberry Furniture looks forward to meeting the holiday travelers and introducing them to the beauty of authentic Amish-crafted furniture. For a full listing of Christmas season events in the Shipshewana area visit http://www.Shipshewana.com.
About Brandenberry Amish Furniture:
The Weaver family established their first Amish furniture store in 1989 in Shipshewana, Indiana, before opening Brandenberry Amish Furniture in 2008. They maintain two family-owned and operated businesses offering a full line of solid wood Furniture at affordable prices. As part of their client services, Brandenberry Amish Furniture provides furniture design consultation services, exclusive furniture, custom furniture options, furniture quotes, layaway options and various delivery alternatives for residences in the United States from their furniture showroom in Indiana's Amish Country.
###