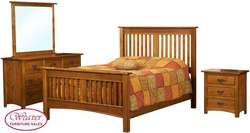 The ladies in our church have committed to providing a wide array of home baked goods for sale during our two-day Anniversary Sale, and we really appreciate their commitment to helping us and those in need
Shipshewana, Indiana (PRWEB) September 14, 2010
Weaver Furniture Sales, an Amish furniture store in Shipshewana, Indiana will be hosting a bake sale to benefit the needy in Old Order Amish Church, District 41-2, which is owners LeRoy and Ida Weaver's home church. Home baked goods will be sold on September 17 and 18, during the store's 21st Anniversary Sale.
With help from the ladies of the church, Weaver Furniture Sales will be offering baked goods for sale during this two-day sales event, with the proceeds going directly to the needy in the Shipshewana community.
"The ladies in our church have committed to providing a wide array of home baked goods for sale during our two-day Anniversary Sale, and we really appreciate their commitment to helping us and those in need," states Ida Weaver, owner.
Shoppers will appreciate the fact that they can get deep discounts on premium, solid wood Amish furniture while also helping out the needy in the area. During this sale, all in-stock furniture, from solid oak office furniture to Amish baby furniture and everything in between, will be discounted 20% in the Weaver Furniture Sales showroom. Some Amish furniture prices will be reduced by up to 50% on close-out showroom floor models.
In addition to home baked goods and low prices, shoppers can enjoy free barbequed roast beef sandwiches, potato chips, pop and other treats during these two special days.
"We are celebrating 21 years in the furniture business and have been blessed. We would like to take this opportunity to help others through food and savings," points out LeRoy Weaver, owner.
The Weaver Furniture Sales showroom is filled with a full line of handcrafted Amish furniture. Shoppers may purchase their solid wood furniture and take it home with them that same day, or they may place a custom order. The custom Amish furniture can be shipped anywhere in the United States or clients can make a visit back to Shipshewana to pick it up.
Shoppers in the Shipshewana area and visitors to Indiana are encouraged to come on by Weaver Furniture Sales on September 17th and 18th to buy their handmade Amish furniture, get some tasty treats, and help out a great cause. To see the complete selection of custom made Amish furniture before the Anniversary Sale, visit the Weaver Furniture Sales website.
About Weaver Furniture Sales:
Weaver Furniture Sales was established in 1989 in Shipshewana, Indiana, and is an Amish, family-owned business that offers a full line of handcrafted, Amish furniture at affordable prices. As part of their client services, Weaver Furniture Sales provides furniture design consultation services, custom furniture options, furniture quotes, layaway options and various delivery alternatives for residences in the United States from their quiet country showroom in Shipshewana, Indiana.
LeRoy and Ida Weaver have owned and operated Weaver Furniture Sales for over twenty years, beginning with a 1,500 square foot showroom and expanding to over 15,000 square feet today. Previously, they owned and managed LeWana Dairy Farm where they milked cows and raised corn and hay.
###