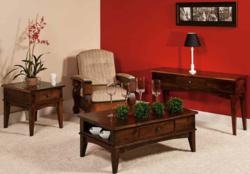 Our new family room furniture collections have the style and design that represent why a lot of people love our local furniture.
Shipshewana, Indiana (PRWEB) August 21, 2012
Weaver Furniture Sales continues to release new furniture products and most recently the latest announcement focuses on the innovative Amarillo and Empire occasional table collections. The Amarillo Occasional Table Collection features a distinct design that is at once rooted in tradition and boldly looking ahead to the future. Inspired by the rustic big country of Amarillo, Texas and the rugged individuals who made the city famous, the Amarillo Occasional Table Collection boasts tapered legs, a curved apron and a unique "inset" style.
Featuring a more elegant motif, the Empire Occasional Table Collection gives a perfect reason to fall in love with the new set. A circular design and turned legs are brilliantly finished to highlight the natural beauty of the Midwestern wood. An open shelf allows for plenty of dynamic storage space. And as in the case of all Weaver's pieces, these tables can be fully customized to suit the needs of each customer.
To create an entire family room furniture collection, Weaver's also recently introduced the Empire Plasma TV Cabinet. Boasting a one-of-a-kind design (including the turned legs and rich wood finish of the Empire Occasional Tables), this TV cabinet features enough storage drawers, adjustable shelving and pullout shelves to ensure space for many possible entertainment needs. Owner Ida remarks, "Our new family room furniture collections have the style and design that represent why a lot of people love our local furniture."
The Amish of Northern Indiana have made a name for themselves with their hand-crafted Amish furniture styles. Visit Weaver Furniture Sales in Shipshewana, Indiana to see more of their new occasional table collections, or browse their vast online catalog along with detailed photographs, product options and specifications, a business history and maps.
About Weaver Furniture Sales:
Weaver Furniture Sales was established in 1989 in Shipshewana, Indiana, and is an Amish, family-owned furniture business that offers a full line of solid wood, Amish Furniture at affordable prices – for both residential and commercial purposes. Weaver Furniture features Mission styles, traditional and Shaker furniture. As part of their client services, Weaver's provides furniture design consultation services, custom furniture options, furniture quotes, layaway options and various delivery alternatives for residences and businesses in the United States from their quiet country showroom in Shipshewana, Indiana.
LeRoy and Ida Weaver have owned and operated Weaver's for over twenty-two years, beginning with a 1,500 square foot showroom and expanding to over 15,000 square feet today. Previously, they owned and managed LeWana Dairy Farm where they milked cows and raised corn and hay.