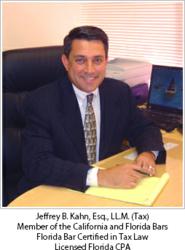 We encourage all Americans to apply for the reopened program before the IRS acts on new data received from foreign banks and expanded reporting requirements beginning with the 2011 Form 1040 filling
Los Angeles, CA (PRWEB) February 28, 2012
The Law Offices of Jeffrey B. Kahn, P.C., a leading tax, probate, and business law firm, encourages Americans with undisclosed offshore accounts to get current with their taxes by taking advantage of the Internal Revenue Service's reopened Offshore Voluntary Disclosure Program. Launched on January 9, 2012, this is the third initiative provided by the IRS in an ongoing effort to pursue criminal prosecution of international tax evasion.
"If you have undisclosed international accounts and unreported foreign income, you still have time to apply for amnesty," said the principal Jeffrey B. Kahn. "We encourage all Americans to apply for the reopened program before the IRS acts on new data received from foreign banks and expanded reporting requirements beginning with the 2011 Form 1040 filling."
While the third initiative is similar to the 2011 program, it has a few important differences. The main difference is that the reopened IRS offshore voluntary disclosure program does not have a deadline. However, the details of the initiative could be altered at any time. According to the IRS, this means it can decide to increase the penalties in the program or end it at any time.
The penalty structure of the new program is also a little different than the previous program. Under the third initiative, taxpayers must pay a penalty of 27.5 percent of the highest aggregate balance in international bank accounts/entities or value of foreign assets during the eight full tax years prior to the disclosure, representing an increase of 2.5 percent from the 2011 program. The new program still requires Americans with offshore accounts to file amended tax returns and provide payment for back-taxes and interest for up to eight years, as well as payment of any delinquent penalties.
Without entering the program and resolving unreported foreign income issues, taxpayers face criminal prosecution, including fines as high as $500,000 and imprisonment of up to five years. However, the Law Offices of Jeffrey B. Kahn has successfully helped many taxpayers file for amnesty and resolve their tax issues.
The law firm encourages all foreign account holders who have not met their filing and disclosure requirements to contact our office immediately to set up a free consultation. The law firm will discuss the benefits and requirements of entering into the reopened IRS Offshore Voluntary Disclosure. For more information about the Law Offices of Jeffrey B. Kahn, or to schedule a prompt evaluation of your case, please visit http://www.kahntaxlaw.com/.
About
The Law Offices of Jeffrey B. Kahn, P.C. is a tax, probate and business law firm headed by Jeffrey B. Kahn, Esq., a member of the California and Florida Bars and Florida Bar Board Certified in tax law. The firm has eight offices throughout Northern and Southern California, including locations in Walnut Creek, San Francisco, San Jose, Fairfield, San Rafael, Los Angeles, San Diego and Newport Beach. To discuss your probate, estate planning, business or tax matter, please call 866-494-6829.
###