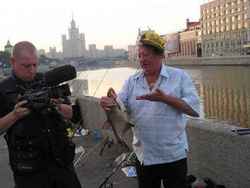 "There is an element of humanity desiring to be omniscient – to see and be everywhere at once; to absorb all the beautiful and horrific events in this world and juxtapose them against one another."
Portland, OR (PRWEB) January 10, 2011
Satellite Films has released scenes from A Moment on Earth II in an online time capsule. Sample scenes from the second moment – all captured at the exact same time worldwide – include: friends drinking vodka and fishing in Moscow, Peruvian villagers dancing, Blue Demon Jr. wrestling in Mexico, a Balinese diver catching fish for aquariums, motorcycling in Wyoming, changing s3x in Sweden, meditating in Thailand, and freezing in Antarctica... The moments were captured all at once by a group of filmmakers that ranged from novices to Academy Award nominees.
"Since filming the A Moment on Earth project in August of 2004 with 60 independent filmmakers across all seven continents and over 40 countries, technology has developed and spread with the creation of YouTube, Vimeo and even better cheap yet high-quality digital video cameras enabling more people around the world to more easily and successfully pursue this elusive concept." said Jereme Axelrod of Satellite Films.
"Ultimately, projects like the New York Times' A Moment in Time, Creative Visions' One Day on Earth, the LA-based Simultania Project, Ridley Scott and Kevin MacDonald's upcoming Sundance premiere of Life in a Day, and Satellite Films' second film in the A Moment on Earth series, serve to take us a step closer to understanding and appreciating the simultaneity and diversity of life on Earth." Jereme said. "The growing number of these experiments is indicative of the improvements in technology, which are allowing for this exploration on an ever-greater scale, as well as audience interest, which has increased with everyone's ability to participate."
The first film in the series – A Moment on Earth – was released in 2007 as a DVDBook that allowed the user to experience the capturing of the moment in real-time alongside the filmmakers. Many of the filmmakers themselves found they were caught up in the Moment as they filmed:
"And then I just realized that, that was the moment actually that was presenting itself, in my eyes without my planning it. I said to myself, if there is a moment on Earth within Rwanda where I am – this is it – and then I filmed it." said filmmaker Eric Kabera
"There was a lot of pressure to get it off on-time," said Rich Moore who filmed in Thailand. "It was like we were going live."
"It's too big of an idea to really wrap your brain around." commented Orson Robbins-Pianka who represented New York City.
"There is an element of humanity desiring to be omniscient – to see and be everywhere at once; to absorb all the beautiful and horrific events in this world and juxtapose them against one another – to participate in something much larger than the personal and individual moments that we each live in every day, in any given time." said Jereme. "It's tough to say if the magnitude of Earth's diversity in any given moment is something that we will ever be able to truly capture to satisfaction in an interactive internet or film medium, but we will inevitably keep trying. After all, 'the journey is the destination.'"
About A Moment on Earth:
On August 5th, 2004 at 12:00 noon GMT, and again exactly 12 hours later, 60 Filmmakers around the world set out to capture a single Moment on Earth. With participants in over 40 countries and on all 7 continents, the events and Heroes that they captured span a spectrum of emotions and speak to what it is to be human and alive on Earth today.
An interactive mosaic from the first in Satellite Films' series was named an Official Honoree of the 2007 Webby Awards and the resulting DVDBook capturing the first Moment on Earth was called "An Incredibly Beautiful Feat" by Amazon Top 10 Reviewer Grady Harp. The DVDBook is available through the Satellite Films' website and Amazon. If you are a journalist and would like a copy of the DVDBook to review, please email inquire(at)satellitefilms(dot)tv with your name, address and publication.
Additional links:
A Moment on Earth II Video Time Capsule
A Moment on Earth II Mosaic
###