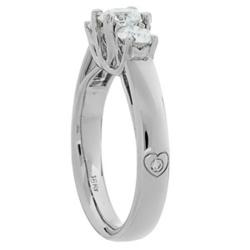 Personal Pleasures are not just pretty design elements. Many have benefits too
(Vocus/PRWEB) February 03, 2011
Jewelry is such a personal thing and often has a very personal significance for its owner. One new jewelry brand, Amoro, really appreciates that precious jewelry is not only valued by its price, but also by how much pleasure it gives to wear and to own. Recognizing this, Amoro incorporates special, often "secret", features in its jewelry which they call "Personal Pleasures" because they are most often known exclusively to the wearer.
"Personal Pleasures are not just pretty design elements. Many have benefits too," claims Steve Crane, Amoro's founder. "Hearts, of course, feature big with Amoro because most fine jewelry is given to celebrate love and the heart is the universal symbol for lovers," explains Crane. "So, Amoro uses delicate hearts to decorate the sides, backs and even insides of its exclusive signature jewelry designs". Amoro has one Personal Pleasure they call a "Diamond Kiss". It's a tiny diamond set into an engraved heart on the side of many rings. That "stolen, Diamond kiss" that only those who wear Amoro can carry with them. Crane goes on to share that "The Personal Pleasure in Amoro jewelry with important center stones is to give its wearer the assurance that their valuable gem is very safely held by strong, signature heart-shaped prongs. The heart shaped prong is difficult to see from a distance," explains Crane, "but for sure the wearer appreciates that the most valuable part of her jewelry is held by her Lovers heart."
According to Crane, Amoro is very fortunate to be the exclusive seller of what he calls the "world's most romantic gemstone" - the Pristine Hearts® Diamond. A round diamond that is cut to present a perfect heart shape when looking deep inside the stone. "That has to be the ultimate Amoro Personal Pleasure. Not only to see your love captured inside the Diamond, but also to know that you have one of the few such diamonds in the world" he says.
Crane explains that Amoro's name is the combination of the Latin words for Love and Gold and that the brand was created specifically to celebrate occasions marked by love with their customers. They even call Amoro the World's Most Romantic Jeweler and claim that Amoro is the only designer and retailer to offer jewelry so packed with "Personal Pleasures", perfect for Valentine's Day giving.
Pristine Hearts® is a registered trademark of Lakhi Group. Pristine Hearts® Diamonds by Lakhi Group are exclusively available at Amoro.com.
About Amoro
Amoro crafts fabulously affordable fine jewelry in precious metals and a variety of gemstones including the Amoro Eternity Cut® Diamond and the unique Pristine Hearts® Diamond.
Each Amoro creation combines special features to increase its comfort, security and value in exquisitely made, modern interpretations of timeless and classic jewelry designs. Amoro uses only precious stones that, from their experience, deliver the most beauty for the price. This exclusive combination of practical features, design excellence and fine craftsmanship at affordable prices is unique to Amoro and adds up to the best value for money in exclusive precious jewelry.
Amoro derived its name from a combination of the Latin words for
Love and Gold. Representing the world's most romantic jewelry, each creation is intricately designed to uphold Amoro's tradition of fine craftsmanship ensuring that every Amoro design becomes a romantic
symbol of celebration at the very best value and price everyday. For more information and to view the complete collection of romantic jewelry, visit http://www.Amoro.com.
Media Contact: Russell Ackner, Director, 1-877-772-6676; rackner(at)amoro(dot)com
###