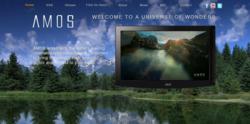 "We are pleased to announce our partnership with SKY to bring their customers a new and refreshing television experience that capitalizes on High Definition technology and offers thought provoking and reflective programming," said AMOS TV CEO, Ohad Maiman
New York, NY (PRWEB) March 08, 2012
AMOS TV and SKY Television's Arts Channel announced today that they have reached an agreement which will make AMOS TV's unique content available on the SKY platform, to subscribers of the Arts Channel in New Zealand. AMOS TV's stunning visuals and brilliantly-choreographed audio tracks will be a cornerstone of the Arts Channels schedule timing focus.
AMOS TV is offering networks and cable operators flexible solutions to boost their HD offerings on both content package licenses as well as VOD and SVOD. According to Jill Bracco, Director of Sales for AMOS TV, "Our videos showcase the capability of High Definition broadcast better than just about any other programming. It makes perfect sense for SKY to use our content to make that point to their customers while at the same time delivering gorgeous imagery."
AMOS TV (http://www.amostv.com) features breathtaking, thematic video from award-winning filmmakers and cinematographers set to music from the world's leading musicians and composers. The artful combination of imagery and music transcends language and cultural barriers, captures the spirit, moods and lifestyles of people around the world and explores the intricacies and complexity of nature.
SKY is the pre-eminent pay television network provider in New Zealand, providing service to nearly 50% of the broadcast population. SKY offers a variety of service packages ranging from basic cable to sports, movies, news and pay-per-view offerings. SKY also publishes magazines and owns a DVD distribution platform to further enhance their customer base.
"We are pleased to announce our partnership with SKY to bring their customers a new and refreshing television experience that capitalizes on High Definition technology and offers thought provoking and reflective programming," said AMOS TV CEO, Ohad Maiman. The Arts Channel's Chris de Bazin welcomes the opportunity to present AMOS TV content that compliments the quality and high production values of Arts programming currently broadcast.
AMOS TV is beginning 2012 with a tremendous head of steam having signed deals in the latter half of 2011 with companies such as Google and Panasonic, as well as having launched their web-based streaming subscription service. Most recently, AMOS TV announced a deal with eVideon to create specialty channels for hospitals called harmonia (http://www.harmoniahd.com).
More information on AMOS TV can be found at http://www.amostv.com