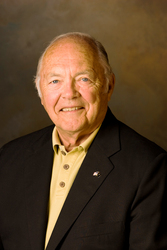 Given our current focus of converting GM vehicles into all-electric, it was a natural fit to have two key pioneers of GM's EV1 program join our ranks - Steve Burns, AMP CEO
Blue Ash, OH (PRWEB) July 8, 2010
AMP Holding Inc. (OTCBB: AMPD), a company engaged in the all-electric, emission-free conversion of GM vehicles, announced today the appointments of Dr. William Wylam and Mr. Dennis Davis to its advisory board.
Dr. Wylam, a pioneer in the auto industry, is a well-known authority on electric vehicle technologies. In 2005, Dr. Wylam retired from Remy International Inc. where he served as corporate director of technology, capping a five-decade career which began at the Delco Remy Division of General Motors (GM). During his tenure, he was charged with development of the propulsion system for GM's EV1 electric vehicle. GM's EV1 was the first mass-produced and purpose-designed electric vehicle of the modern era from a major automaker. The EV1 garnered an almost cult-like following, and Dr. Wylam's contribution to its development is well-documented. Dr. Wylam serves on the boards of several organizations involved in research and projects in the area of electric vehicle technologies. Dr. Wylam is currently president of International Energy, LLC, a global consulting company specializing in energy for transportation.
"The concept of the all-electric car has been in the making for 20 years now, and it's time for it to come full circle. AMP is leading the way in terms of fostering innovation in the field, and is quickly establishing itself as an industry leader and pioneer. The Company and I share a true passion for the development of electric vehicle technologies and energy conversion, so it brings me great pleasure to draw upon my experiences to help AMP achieve its objectives," commented Dr. Wylam.
Mr. Dennis Davis is currently owner of SynTech Solutions, LLC, a management and technical consulting firm, and a consultant at International Energy, LLC. During his career at GM, Mr. Davis provided leadership to various engineering teams that were directly responsible for the design, development, integration and testing of vehicle electric drive propulsion systems. These systems included fuel cell systems, hybrid systems, electric traction, wheel motors, power inverter modules, battery pack and controls. Mr. Davis also played a critical role in the development of GM's EV1, serving as the manager of propulsion system development, integration, testing and validation for the vehicle program.
Steve Burns, CEO of AMP, said "Given our current focus of converting GM vehicles into all-electric, it was a natural fit to have two key pioneers of GM's EV1 program join our ranks. While we plan to build upon the learnings of the past, we strive to innovate and deepen our commitment to engineering all while driving continuous improvement of quality. Working with such high-caliber individuals as William and Dennis will bring a level of expertise and wealth of experience to the board that will prove to be invaluable going forward. As AMP grows, the key to our success will be our ability to meet the increasing demand for environmentally conscious vehicles that are also readily adoptable into the marketplace, and today's appointments will help us achieve this underlying goal."
About AMP Holding Inc.
AMP was founded in 2007 by automotive industry veterans who have created several hi-tech companies. Currently, the AMP team is comprised of top engineers and business executives, as well as two key pioneers of GM's EV1 project. AMP's first conversions to all-electric are the GM Saturn Sky and the Pontiac Solstice, and most recently, the Chevrolet Equinox. Since its inception, the AMP converted all-electric GM Saturn Sky has proven itself to be an idea that has generated an extreme amount of interest, with inquiries coming from around the world. AMP will be converting a wide range of GM vehicles to all-electric, and expects to announce new model conversions in 2010. The Company expects its vehicle conversion technology will provide new solutions to America's energy demands.
To learn more, visit the AMP website at http://www.ampelectricvehicles.com.
Forward-Looking Statements
Certain statements contained in this press release may constitute "forward-looking statements". Forward-looking statements provide current expectations of future events based on certain assumptions and include any statement that does not directly relate to any historical or current fact. Actual results may differ materially from those indicated by such forward-looking statements as a result of various important factors as disclosed in our filings with the Securities and Exchange Commission located at their website (http://www.sec.gov). In addition to these factors, actual future performance, outcomes, and results may differ materially because of more general factors including (without limitation) general industry and market conditions and growth rates, economic conditions, and governmental and public policy changes. The forward-looking statements included in this press release represent the Company's views as of the date of this press release and these views could change. However, while the Company may elect to update these forward-looking statements at some point in the future, the Company specifically disclaims any obligation to do so. These forward-looking statements should not be relied upon as representing the Company's views as of any date subsequent to the date of the press release.
SOURCE:
Advanced Mechanical Products Inc.
INFORMATION:
Investors:
info(at)csirgroup(dot)com
Media:
mdektas(at)dhacustomerconnect(dot)com
# # #