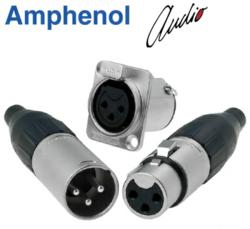 Endicott, NY (PRWEB) May 24, 2011
Cables on Demand, a division of Amphenol Corporation, is pleased to now offer a suite of premium XLR connector products for the professional audio market at CablesOnDemand.com, its exclusive online storefront. Engineered in Australia by Amphenol Audio Products, these XLR connectors are available in a variety of configurations including panel (chassis) mountable and in-line (cable) mountable versions. The XLR connector, commonly referred to as a "balanced audio connector", is the industry standard connection found on professional microphones, mixing consoles, and audio processor racks.
Amphenol's half-century of audio interconnect manufacturing expertise shines through with each and every product in the Amphenol Audio catalog according to Nick Blas, Product Marketing Manager for Amphenol Cables on Demand. "Quality audio interconnect manufacturing is just as much an art as it is a science. The finished product should combine superior ergonomics and aesthetics, while maintaining the highest degree of spectral purity, wear resistance and road-tested reliability. We're ecstatic to add such a high-caliber product to our existing inventory."
The first XLR connector platform offered via Cables on Demand is Amphenol Audio's AC "Z" Series XLR Metal Chassis Mount Connector. According to the manufacturer, "The metal chassis mount "Z" series connectors are designed for the audio user where durability, reliability and strength across a wide range of applications are important. All AC products are manufactured to the highest quality standards and will withstand the harshest environments. This range complies with IEC268-12 and AES14-1992 standards." The AC "Z" series is ideal for custom audio projects and are offered in either matte black or satin nickel finish to match the look of your specific chassis. Prices start at only $2.49 per piece.
The second XLR connector platform offered via Cables on Demand is Amphenol Audio's new AX Series XLR Cable Connector. According to the manufacturer, "The revolutionary AX series of XLR connectors introduce an exciting contemporary look and feel to the professional audio interconnect market. They are designed to complement modern audio architecture and truly "fit" within their environment. An impressive list of features guarantees pure sound performance in the most demanding applications providing unrivalled value." The Amphenol AX Series permits an audio technician to precision-terminate their own XLR audio cables in-house, finished with their choice of matte black or satin nickel finish. Prices start at only $2.44 per piece.
In addition to Amphenol Audio's AC "Z" and AX series of XLR audio connectors, Amphenol Cables on Demand also stocks the company's ¼" TS mono phone plug connectors in two specific platforms. The affordable ($1.50 per piece) M-Series Musician Range ¼" Phone Connector is a quick-solder type design, allowing professionals and amateurs alike to make their own high-quality instrument cables. The studio-grade T-Series Professional Range ¼" Phone Connector features Amphenol's exclusive Jaws™ Cable Clamp System, permitting an audio engineer to bulk-terminate rack and instrument patch cords with ease and precision. The T-Series connectors are available for only $3.44 per piece.
Cables on Demand rounds out its inventory of Amphenol Audio products with their popular Die-Cast Stereo RCA Plug Connector, the perfect choice for bringing a professional look and feel to your home audio system. Offered at the low price of only $1.87 per piece, Amphenol Audio's RCA connectors combine Gold-plated contacts for enhanced signal continuity and red or black color-coded grommets for proper channel identification purposes.
All of the connectors discussed above are available now for same-day shipment from Amphenol Cables on Demand's Endicott, NY-based fulfillment center. Bulk discounts are available in quantities above 50 pieces. Cables on Demand offers Free UPS Ground Shipping on all orders over $75.00 and periodically offers special promotional discounts. To place an order online, customers can visit the Cables on Demand website (http://www.CablesOnDemand.com) or call the company's Toll Free Customer Service Call Center at 1-866-223-2860. All major credit cards are accepted and NET30 payment terms are available on approved credit.
Amphenol Corporation (NYSE:APH) is the second largest manufacturer of connectors and cables worldwide, comprised of over fifty industry-leading divisions including Times Fiber Communications, Times Microwave Systems, Teradyne Connection Systems, Amphenol Interconnect Products and Amphenol RF. Since 1934, Amphenol Engineers have designed innovative interconnect solutions such as the BNC and UHF connector series, SKEWCLEAR wire technology, and XCede backplane architecture.
Amphenol Cables on Demand, launched in 2006, is Amphenol's first wholly owned subsidiary optimized for the distribution of Amphenol brand cable products online. Based in Endicott, NY, Cables on Demand offers same day shipping before 3:00PM Eastern on over 3,000 unique cable SKUs. The company's high product mix supports a vast array of applications including Network, Broadcast, Test, Instrumentation, Audio/Video, Data Storage, Clustered Computers, Prototyping, Automation, Industrial Control, WiFi, Automotive and Avionics.
###