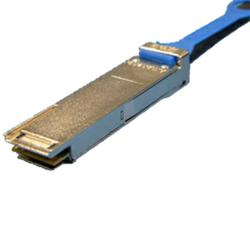 QSFP (Quad SFP) passive copper cable assemblies represent the pinnacle of Amphenol's high-speed interconnect design methodology.
Endicott, NY (PRWEB) February 17, 2012
Amphenol, the world's second largest interconnect manufacturer, is pleased to expand its portfolio of high-speed copper interconnect products with the release of a new class of QDR InfiniBand qualified QSFP Cables at Cables on Demand (http://www.CablesOnDemand.com), its exclusive online subsidiary. QSFP (Quad SFP) passive copper cable assemblies represent the pinnacle of Amphenol's high-speed interconnect design methodology, combining a superior die-cast "board-as-connector" platform with proprietary Spectra-Strip SKEWCLEAR shielded parallel pair wire.
Specifically optimized for bandwidth-intense applications, the QSFP interface offers the scalability and flexibility required to support emerging 40-Gbps communications standards such as QDR InfiniBand and 40-Gigabit Ethernet. Amphenol's precision-engineered QDR InfiniBand qualified QSFP cable series is manufactured by Amphenol High Speed Interconnects (AHSI) of Endicott, New York.
Amphenol's extensive experience with the design and manufacture of InfiniBand compliant interconnect systems has proven pivotal to the development of its new QDR InfiniBand Qualified QSFP Cable series according to Nick Blas, Product Marketing Manager for Amphenol Cables on Demand. "Amphenol has a rich legacy of participation in InfiniBand Trade Association sponsored events, including the twice-annual IBTA Plugfest. This strategic partnership has earned Amphenol's InfiniBand products several prominent slots on the coveted IBTA Integrators List, a list of products which are tested and accepted by the IBTA as being compliant with the InfiniBand™ architecture specification."
Several critical design elements from Amphenol's QDR InfiniBand qualified QSFP cable series have been specifically optimized to handle Quad Data Rate (QDR) signal-sets at 40.0 Gbps; including the PCB layout, wire selection, die-cast backshell, EEPROM programming and manufacturing processes. Mr. Blas emphasized, "In order to receive the official 40G-IB-QDR CERTIFIED™ stamp of approval from the InfiniBand Trade Association, performance characteristics such as cross-talk, EMI, and insertion-loss must be tightly controlled. Amphenol has thoroughly addressed these issues by embracing its long-held culture of engineering excellence from concept-to-production."
InfiniBand is widely considered the interconnect method of choice as it pertains to High Performance Computing (HPC) applications such as advanced weather forecasting, oil and gas exploration, quantum physics experiments, gene sequencing and biochemical modeling. InfiniBand's closest competitor, Gigabit Ethernet, remains popular for traditional TCP/IP based networking applications in which signal latency and packet losses remain acceptable. InfiniBand, by comparison, was specifically conceived to guarantee in-order packet delivery with absolutely zero dropped packets and extremely low latency characteristics. Such strenuous performance requirements demand the use of high-quality InfiniBand qualified hardware, such as Amphenol's aforementioned 40G-IB-QDR Certified InfiniBand Cables.
Genuine Amphenol QDR InfiniBand qualified QSFP cables can be purchased factory direct through the Cables on Demand website (http://www.cablesondemand.com) or by calling the Toll Free Customer Service Center at 1-866-223-2860. 1m (3.3 ft), 2m (6.6 ft), 3m (9.8 ft) and 5m (16.4 ft) cable lengths are presently in-stock at Cables on Demand. Additional length options and custom configurations, such as cables with integrated active band limiting amplification, may be quoted upon request.
Amphenol Cables on Demand also carries the web's most comprehensive selection of Networking, High-Performance Computing (HPC), and Datacenter Cable Solutions; including Custom CAT6 Rack-Ready Cable Kits, SFP+ Cables, CX4 Cables, 40-Gigabit Ethernet QSFP+ Cables, QSFP to 4-SFP+ Splitter Cables and a new line of External PCI Express x16 Cables for GPU-based personal supercomputers. Now through March 30th, Cables on Demand is offering an exclusive one-time discount to celebrate its new slate of 2012 product releases. Simply enter coupon code "QDRSALE" upon checkout at http://www.CablesOnDemand.com and enjoy 12% OFF your first online order.
Amphenol Corporation (NYSE:APH) is the second largest manufacturer of connectors and cables worldwide, comprised of over fifty industry-leading divisions including Times Fiber Communications, Times Microwave Systems, Teradyne Connection Systems, Amphenol Interconnect Products and Amphenol RF. Since 1934, Amphenol Engineers have designed innovative interconnect solutions such as the BNC and UHF connector series, SKEWCLEAR wire technology, and XCede backplane architecture.
Amphenol Cables on Demand, launched in 2006, is Amphenol's first wholly owned subsidiary optimized for the distribution of Amphenol brand cable products online. Based in Endicott, NY, Cables on Demand offers same day shipping before 3:00PM Eastern on over 3,000 unique cable SKUs. The company's high product mix supports a vast array of applications including Network, Broadcast, Test, Instrumentation, Audio/Video, Data Storage, Clustered Computers, Prototyping, Automation, Industrial Control, WiFi, Automotive and Avionics.
###