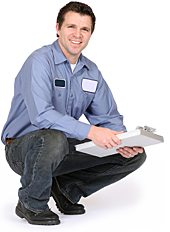 Los Angeles, CA (PRWEB) December 18, 2012
For more than a century, innovators have been developing ways to make it easier for businesses and families to preserve food longer, keep cold foods colder, cook foods faster and clean up more effectively. Although not all of their ideas were successful, some of them have stood the test of time and translated into inventions that have helped make life easier for the majority of Americans. Families and businesses have learned to rely on these appliances, which in turn have helped them complete routine jobs faster and more efficiently. Unfortunately, this means that when an appliance breaks or malfunctions, valuable time can be lost. Getting that appliance back in working order as quickly as possible is essential. AM PM Los Angeles Appliance Repair is now offering appliance repair services for various kitchen appliances.
AM PM's Los Angeles appliance service technicians can provide experienced services throughout the Los Angeles area at any time of the day or night. They respond within 24 hours of the service call and generally on the same day of the call. They can provide refrigerator repair, freezer repair, ice maker repair, wine cooler repair, microwave repair, stove repair, oven repair, cooktop repair, range hood repair, dishwasher repair, garbage disposal repair and trash compactor repair on all major foreign and domestic name brand appliances.
Getting an appliance repaired in the fastest, most reliable manner possible can help families get back to normal more quickly and with less interruption of their daily lives. A reliable appliance repair company can give families and businesses the confidence they need that their appliance has been repaired properly and that it will continue to give them the kind of faithful service upon which they have come to rely.
AM PM Appliance Repair has provided appliance repair services throughout the Los Angeles region, including Beverly Hills, Malibu, Santa Monica, Pasadena and the San Fernando Valley, for more than 20 years. Their Los Angeles appliance service technicians are certified and are committed to providing on-site service for most repairs and maintenance. With convenient same-day service, affordable house calls, reliable professionalism and optional five-year warranties, AM PM stands behind their work and is committed to customer satisfaction.
You can visit http://www.ampmserviceappliancerepair.com or call (800) 343-6011 for more information.