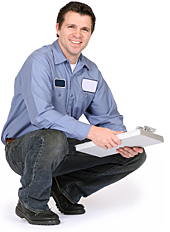 Los Angeles, CA (PRWEB) August 06, 2012
Part of keeping one's home running smoothly is being able to carry out the countless chores that are required to cook food, clean dishes, and complete a number of other small tasks throughout the day. When devices no longer work properly though, the entire house will come to a halt and it will require the services of a dedicated appliance services and repair company to get things running smoothly once again. In order to help all locals, Los Angeles appliance repair company, AM PM, is now offering affordable service calls for all of the top laundry appliance brands. Visit AMPMApplianceRepair.com for more information.
While basic maintenance and the correct use of an appliance will keeping it running smoothly for years on end, it will never take much for an owner to notice that their washer or dryer is no longer working properly and in need of appliance repair. From unwanted odors in the washer to overheating or loud dryers, it is important for individuals to immediately contact their own local Maytag, GE, and Asko appliance repair specialist.
As a trusted Los Angeles appliance services and maintenance company for over 15 years, AM PM has provided their services to countless customers so that they can get all of their top brands and styles of appliances back into working condition. With affordable prices now offered on all service calls for laundry appliances, more locals than ever are now contacting these Amani, Panasonic, and Bosch appliance repair specialists.
These services and repairs are something that all appliance owners will need to deal with at some point in their life, but with low prices now being offered on these service calls, no one ever needs to hesitate on making the call to get their home running smoothly once again.
About AM PM Appliance Repair Los Angeles
Going all the way back to 1994, AM PM has been providing the residents of Los Angeles and the surrounding area with affordable and trusted repairs for all of their appliances. Their Sharp, LG, Admiral, and Magic Chef appliance repair specialists are on call 24 hours a day, 7 days a week with low prices and a robust warranty on parts and labor.
You can call (800) 343-6011 or visit their website at http://www.ampmappliancerepair.com for more information.