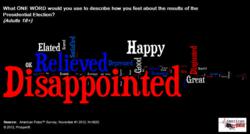 Not Much Hope for Elected Officials to Reach Agreement to Avert the Fiscal Cliff
(PRWEB) November 15, 2012
Fresh off the Presidential election, Americans are feeling divided about the results, according to an analysis of the latest American Pulse™ Survey (Nov-12, N=3620). When asked which one word they would use to describe results of the Presidential election, "disappointed" tops the list, followed by "relieved" and "happy," providing an example of the mixed emotions. Further, three in five (60%) Americans aren't confident that President Obama and Congress can work together to bridge the bipartisan divide, compared to 20.5% who are.
One thing Americans can agree on is that something needs to be done about the impending fiscal cliff. Addressing the situation ranks the highest (19.3%) for what they believe President Obama should focus on first. The uncertainty appears to be driving a wedge between Americans and their wallets and is likely a factor in why they want some answers on the matter. 72.1% say the prospect of falling off the fiscal cliff has impacted their spending and the biggest hits are to their overall spending and dining out.
"How has the looming fiscal cliff impacted your spending?"
Adults 18+
Decreasing overall spending 42.5%
Reducing dining out 30.4%
Doing more comparative shopping 28.5%
Delaying a major purchase (car, TV, etc.) 27.8%
Paying down debt 25.3%
Increasing savings 17.9%
Source: American Pulse™, NOV-12, N=3620
According to the analysis, Americans don't seem to have much hope that elected officials will come to an agreement to avoid the fiscal cliff before the end of the year. They are more likely to believe it will be postponed by Congress. In any event, most believe failure to address it will create another recession.
"In regards to the "fiscal cliff," how likely is each of the following scenarios?"
Adults 18+
Republicans and Democrats will come to an agreement before the end of the year
Unlikely* 52.1%
Likely** 23.4%
The "fiscal cliff" will be postponed by Congress extending spending and tax deadlines
Unlikely 18.8%
Likely 50.2%
Failure to address the "fiscal cliff" will create another recession
Unlikely 12.3%
Likely 64.1%
Source: American Pulse™, NOV-12, N=3620
*Unlikely indicates somewhat/very unlikely
**Likely indicates somewhat/very likely
View the full complimentary report including age and income segments. And for more trends check out the complimentary American Pulse™ App and InsightCenter™. Click HERE for more information.
American Pulse™
The American Pulse™ provides a timely view of how people feel about topics such as politics, pop culture and the economy through the American Pulse InsightCenter™. This center provides advanced cloud-based technology-driven answers, which are delivered via multiple devices (PC/Tablet/Smartphone), regarding the current state of the union through the eyes of Americans. 3,620 respondents participated in the first November American Pulse conducted 11/9-11/13/2012. Margin of error is +/- 1.6% at the 95% confidence level.
reInvention LLC
reInvention LLC provides global sampling and data collection services. Driven by a passion for making it incredibly easy to survey audiences anywhere in the world, reInvention delivers high-quality responses and superior results. OneOpinion, reInvention's respondent panel, is a next generation survey taking platform that encourages survey participation through sophisticated technology, honest communications, and respectful compensation. reInvention was founded by Hugh Davis and Keith Price and is headquartered in Westport, CT. http://www.reInvention.com
Contact:
Chrissy Wissinger, Senior Manager, Communications
chrissy(at)biginsight(dot)com
Dianne Kremer, Senior Analyst
dianne(at)biginsight(dot)com
614-846-0146
reInvention LLC
Jim Nikolis
jnikolis(at)reinvention(dot)com
203-635-0882