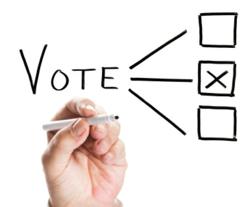 Election Heats Up In Battleground States Post National Conventions.
Worthington, OH (PRWEB) September 13, 2012
With less than two months to go until the 2012 election, the presidential candidates are ramping up their campaigns in key swing states. Between the two camps and their supporting groups, it's reported that $575 million has already been spent on political ads. And it appears that their efforts are paying off in regards to energizing voters in these areas. According to the American Pulse™ Voter Intensity Index, residents of Colorado, Virginia and North Carolina are the most likely to be passionate about casting a ballot this November among select swing states profiled. This unique index considers likeliness of voting, excitement to vote, voting frequency and awareness of election coverage. Select states are indexed against Adults 18+. The score provides a better understanding of which states' voters are more likely to appear at the polls, anxious to make their voices heard.
American Pulse™ Voter Intensity Index of Select Swing States
Colorado: 110.8
Virginia: 107.4
North Carolina: 106.3
Ohio: 103.2
Florida: 101.1
---------------------------
Wisconsin: 96.1
Iowa: 90.7
Source: American Pulse™ Survey, SEP-12
To be read as: Score of 100 is flat to Adults 18+; Score of 105 indicates score is 5% higher than Adults 18+.
The passion these swing states show for voting this year could mean trouble for President Obama's campaign. Those states scoring higher on the Voter Intensity Index are more likely to vote for the challenger, while "not as energized" residents in Iowa are more likely to favor the incumbent:
If the Presidential Election were held today, who would you be more likely to vote for?
Colorado
Obama: 42.1%
Romney: 48.6%
Undecided: 9.4%
Virginia
Obama: 35.1%
Romney: 54.2%
Undecided: 10.7%
North Carolina
Obama: 43.0%
Romney: 47.9%
Undecided: 9.1%
Ohio
Obama: 38.8%
Romney: 44.1%
Undecided: 17.1%
Florida
Obama: 43.6%
Romney: 47.6%
Undecided: 8.8%
Wisconsin
Obama: 40.3%
Romney: 42.6%
Undecided: 17.1%
Iowa
Obama: 48.5%
Romney: 33.3%
Undecided: 18.2%
Source: American Pulse™ Survey, SEP-12
For a full, complimentary report, click here.
High unemployment seems to be a key issue for Election 2012, perhaps helping explain why citizens of North Carolina, Florida and Colorado appear to be seeking a new face in the White House. These states currently have a higher than average unemployment rate, according to the U.S. Bureau of Labor Statistics.
Further, voters in Ohio and Virginia may be searching for a change in command due to their outlook on the country. A majority from each state says America is worse off than it was four years ago, compared to about a quarter in each state claiming the country is better off.
Key Findings on the National Conventions among Likely Voters*:

67.6% of Likely Voters watched at least one National Convention while 32.4% didn't follow either.
8.4% said the Democratic National Convention changed their vote vs. 7.3% who said the same about the Republican National Convention.
1 in 5 (20.2%) said the Democratic National Convention did not influence them—it was just for show. 15.3% said the same about the Republican National Convention.
*Likely Voters are defined as those who are somewhat/very likely to vote in the 2012 presidential election
American Pulse™
The American Pulse™ provides a timely view of how people feel about topics such as politics, pop culture and the economy through the American Pulse InsightCenter™. This center provides advanced cloud-based technology-driven answers, which are delivered via multiple devices (PC/Tablet/Smartphone), regarding the current state of the union through the eyes of Americans. 3,345 respondents participated in the first September American Pulse conducted 9/7-9/12/2012. Margin of error is +/- 1.7% at the 95% confidence level.
reInvention LLC
reInvention LLC provides global sampling and data collection services. Driven by a passion for making it incredibly easy to survey audiences anywhere in the world, reInvention delivers high-quality responses and superior results. OneOpinion, reInvention's respondent panel, is a next generation survey taking platform that encourages survey participation through sophisticated technology, honest communications, and respectful compensation. reInvention was founded by Hugh Davis and Keith Price and is headquartered in Westport, CT. http://www.reInvention.com
Contact:
Chrissy Wissinger, Senior Manager, Communications
chrissy(at)biginsight(dot)com
Dianne Kremer, Senior Analyst
dianne(at)biginsight(dot)com
614-846-0146
reInvention LLC
Jim Nikolis
jnikolis(at)reinvention(dot)com
203-635-0882