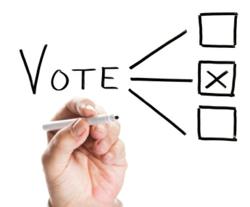 7 in 10 Say Two Parties Have Grown So Far Apart They No Longer Work
Worthington, OH (PRWEB) November 16, 2011
The majority of Registered Voters (58.0%) don't think a two-party system still effectively represents Americans, according to the latest American Pulse™ Survey of 6,136 respondents. 69.0% of Registered Independents, 53.7% of Democrats and 51.2% of Republicans agree. Further, half of Registered Voters would consider voting for a third-party candidate in the 2012 Presidential Election, if a new party is formed:
"If a third party were formed, would you consider voting for its candidate in the 2012 Presidential Election?"
Registered Voters
Yes: 55.5%
No: 13.0%
I don't know: 31.5%
Registered Republicans
Yes: 54.7%
No: 14.0%
I don't know: 31.3%
Registered Democrats
Yes: 48.2%
No: 18.3%
I don't know: 33.5%
Registered Independents
Yes: 64.6%
No: 6.6%
I don't know: 28.8%
Source: American Pulse™ Survey, November-2011
Independents are the most likely to consider voting for a presidential candidate from a new party while Democrats are less likely. 3 in 10 Voters are unsure about a third-party candidate in 2012.
For a full, complimentary report, click here.
Voters' interest in the formation of a third party likely stems from their dissatisfaction with the current two-party system. 72.2% say the political parties have grown so far apart that they no longer work. 77.4% of Independents agree, along with 72.9% of Democrats and 67.2% of Republicans.
The majority of voters from each party also say now is the time for a third party to emerge: 67.2% of all Voters think it's time for a third political party that focuses more on what people think rather than on Washington politics as usual. 75.6% of Independents feel the same, as well as 64.0% of Republicans and 62.7% of Democrats.
Other Key Findings among Voters:

The majority (82.3%) think wealth should be something any citizen can obtain if they work hard and save. 89.5% of Republicans, 84.3% of Independents and 74.8% of Democrats agree. 17.7% of Voters would rather have wealth distributed by the government among all citizens.
61.9% think class warfare is somewhat/definitely a problem in the United States. 64.3% of Democrats, 63.7% of Independents and 57.6% of Republicans agree.
59.2% would rather see President Obama work on getting his jobs bill passed instead of traveling to talk about the bill (40.8%).
62.4% think green companies should be funded by private investors due to the risk of bankruptcy. 78.8% of Republicans and 63.1% of Independents agree. 37.6% of Voters think the government should fund these green ventures, and most Democrats (52.4%) agree with federal funding.
53.1% were not surprised that Kim Kardashian got divorced—the majority feels the whole wedding was a sham. 40.5% simply don't care.
For more insights on how Americans feel about the economy, personal finances and political issues, download the American Pulse™ Android Tablet App or access the online American Pulse™ InsightCenter™, recently updated with new November survey data.
American Pulse™
The American Pulse™ Survey is collected online twice a month exclusively utilizing SSI's U.S. panel covering topics such as politics, pop culture and the economy. 6,136 respondents participated in the 1st November American Pulse conducted 11/8-11/10/2011. Margin of error is +/- 1.3%. http://www.biginsight.com
Survey Sampling International (SSI)
Bringing together Survey Sampling International and Opinionology, SSI is the premier global provider of world-leading sampling, data collection and data analytic solutions for survey research. SSI reaches respondents in 72 countries via Internet, telephone, mobile/wireless and mixed access offerings. Value-add services include questionnaire design consultation, programming and hosting, data processing and real-time reporting. SSI serves more than 2,000 clients, including the top 50 research organizations. It has 30 offices serving clients around the world.
BIGinsight™
Chrissy Wissinger
chrissy(at)biginsight(dot)com
Randi Honkonen
randi(at)biginsight(dot)com
614.846.0146
SSI
Ilene Siegalovsky
Ilene_Siegalovsky(at)surveysampling(dot)com
203-567-7230
###