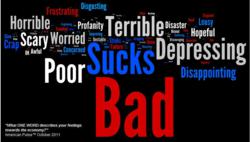 3 in 10 Americans describe their current standard of living as "Poor."
Worthington, OH (PRWEB) November 01, 2011
What one word best describes the economy? If you said something like bad, sucks, poor, terrible or depressing, you'd be right in line with the top 5 descriptions, according to the latest American Pulse™ Survey of 6,059 respondents. In fact, a positive word doesn't even make it into the top 10 responses:
"What ONE WORD describes your feelings towards the economy?" TOP 15 (Adults 18+)
1) Bad: 11.9%
2) Sucks: 6.3%
3) Poor: 4.8%
4) Terrible: 4.1%
5) Depressing: 4.1%
6) Sad: 3.8%
7) Horrible: 2.6%
8) Scary: 2.4%
9) Worried: 2.2%
10) Disappointing: 2.0%
11) Crap: 1.7%
12) Hopeful: 1.6%
13) [Profanity]: 1.5%
14) Lousy: 1.4%
15) Frustrating: 1.4%
Source: American Pulse™ Survey, October-2011
For a full, complimentary report, click here.
Hopeful is the first positive word mentioned at #12, with only 1.6% saying so, followed closely by foul language with 1.5%. Americans' frustration with the economy could be the result of a sharp drop in the standard of living. Before the start of the recession, the majority said their standard of living was positive. 17.1% said it was "Excellent" while 55.9% rated it as "Good." 22.0% were in the middle and said their life was "Fair" while only 5.0% described their pre-recession life as "Poor." Currently, however, only 3.6% say their standard of living is "Excellent" and 1 in 4 (25.6%) say "Good." 42.3% now rate their standard of living as "Fair" and a whopping 28.5% say their life is "Poor."
Other Key Findings:

To get the economy back on track, 68.6% think the U.S. government should spend less. 18.8% think the government should spend more while 12.7% aren't sure.
To get citizens to help the economy, 39.6% say consumers should spend more while 30.5% think they should spend less. 29.9% aren't sure.
If given an extra $100 a month, 42.8% would pay down debt, 41.8% would put it towards every day expenses and 32.7% would save it. 14.3% would splurge on something for themselves or their family.
Most (79.2%) think the current tax system is unfair, and 86.1% agree the system needs to be reformed. If given the option of a flat tax, 35.5% would prefer it while 39.7% would rather reform the current system. 24.8% aren't sure.
The majority (58.5%) don't identify with radical groups fighting for major changes in government and big business. However, 21.1% admit they identify with the Occupy Wall Street participants and slightly fewer (20.4%) identify with the Tea Party.
American Pulse™
The American Pulse™ Survey is collected online twice a month exclusively utilizing SSI's U.S. panel covering topics such as politics, pop culture and the economy. 6,059 respondents participated in the 2nd October American Pulse conducted 10/25-10/26/2011. Margin of error is +/- 1.3%. http://www.biginsight.com
Survey Sampling International (SSI)
Bringing together Survey Sampling International and Opinionology, SSI is the premier global provider of world-leading sampling, data collection and data analytic solutions for survey research. SSI reaches respondents in 72 countries via Internet, telephone, mobile/wireless and mixed access offerings. Value-add services include questionnaire design consultation, programming and hosting, data processing and real-time reporting. SSI serves more than 2,000 clients, including the top 50 research organizations. It has 30 offices serving clients around the world.
BIGinsight™
Chrissy Wissinger
chrissy(at)biginsight(dot)com
Randi Honkonen
randi(at)biginsight(dot)com
614.846.0146
SSI
Ilene Siegalovsky
Ilene_Siegalovsky(at)surveysampling(dot)com
203-567-7230
###