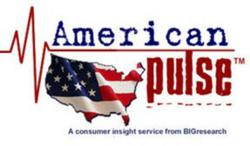 Only 17% of Voters know the federal tax rate millionaires pay, while nearly half think it's only 15%.
Worthington, OH (PRWEB) September 29, 2011
With so many Americans living paycheck to paycheck, it is no surprise that 74.2% of Registered Voters don't think millionaires pay their fair share of taxes, while only 1 in 4 (25.8%) does, according to the latest American Pulse™ Survey of 6,061 respondents. 85.3% of Registered Democrats think millionaires don't pay enough taxes, and 76.7% of Independents and 58.2% of Republicans agree. However, most of these Voters do not know that the IRS tax tables state people earning $1 million in a year are taxed at a 35% rate:
What Voters Think Millionaires Pay in Income Taxes
15% ($150,000): 46.6%
25% ($250,000): 22.5%
33% ($330,000): 13.6%
35% ($350,000): 17.3% (correct answer)
Source: American Pulse™ Survey, September-2011
20.6% of Republicans chose 35% as the income tax rate for millionaires, along with 16.7% of Independents and 14.8% of Democrats.
For a full, complimentary report, click here.
Most Voters believe the president's example of Warren Buffet: 59.5% think Buffet pays a lower income tax rate than his secretary. 21.4% don't believe this scenario while 19.1% are unsure. 74.2% of Democrats agree that Buffet pays too little, along with 60.0% of Independents and 43.3% of Republicans. The majority (68.2%) of Voters also think taxing millionaires more is "good math" while 3 in 10 (31.8%) see it as "class warfare." The majority of Voters in each party agrees with mathematics, but Republicans are the most divided: 50.2% say "good math" while 49.8% think "class warfare."
More than half (58.4%) of Voters think taxing millionaires more will help stimulate growth in the economy. Democrats (75.6%) are most likely to agree, followed by Independents (55.2%) and Republicans (41.1%). 2 in 5 Voters (39.4%) think upping millionaires' contributions will add jobs. 52.8% of Democrats, 35.0% of Independents and 27.3% of Republicans agree. However, 37.8% of Voters don't think either will happen.
Other Key Findings Among Voters:

70.6% would rather be told how they could help stimulate the economy while 29.4% would rather hear how bad the economy is. More Democrats (74.5%) would like to find out how to help.
84.8% are somewhat or very concerned the poverty rate will continue to rise. 3 in 4 (75.3%) say the high poverty rate affects the community in which they live.
23.6% say they use their credit card more this year vs. last year. Most (50.8%) do so in order to make ends meet while 35.9% use credit cards more in order to earn rewards or cash back.
Top fall activities this year: Holiday shopping (52.3%), baking (41.6%) and Halloween parties (33.2%). Top fall financial splurges: Candy (35.9%), food for new fall recipes (24.1%) and fall décor (22.8%).
American Pulse™
The American Pulse™ Survey is collected online twice a month exclusively utilizing SSI's U.S. panel covering topics such as politics, pop culture and the economy. 6,061 respondents participated in the 2nd September American Pulse conducted 9/27-9/28/2011. Margin of error is +/- 1.3%. http://www.biginsight.com
Survey Sampling International (SSI)
Bringing together Survey Sampling International and Opinionology, SSI is the premier global provider of world-leading sampling, data collection and data analytic solutions for survey research. SSI reaches respondents in 72 countries via Internet, telephone, mobile/wireless and mixed access offerings. Value-add services include questionnaire design consultation, programming and hosting, data processing and real-time reporting. SSI serves more than 2,000 clients, including the top 50 research organizations. It has 30 offices serving clients around the world.
BIGinsight™
Chrissy Wissinger
chrissy(at)biginsight(dot)com
Randi Honkonen
randi(at)biginsight(dot)com
614.846.0146
SSI
Ilene Siegalovsky
Ilene_Siegalovsky(at)surveysampling(dot)com
203-567-7230
###