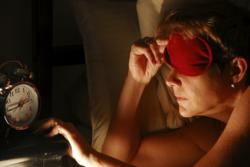 Finally people have a natural AND effective sleep solution they can rely on
Denver, CO (PRWEB) October 27, 2011
Rest-Fully contains therapeutic dosages of melatonin, hydrolyzed milk, protein, GABA, and magnesium, as well as a unique botanical blend of herbs shown to promote relaxation, including valerian root, lemon balm, and hop strobile extract. By marrying known natural sleep ingredients with effective stress-reducing therapies, this proprietary formula promises a safe and sound night's sleep.
"A lack of quality sleep is clearly a big problem in this country," says Amrion's Founder and Chairman of the Board Mark Crossen. "Unfortunately, prescription sleep aids can have a whole host of unpleasant side effects, including addiction. Even some natural sleep solutions contain too much melatonin causing unwanted grogginess. At Amrion, our scientists only use scientifically backed ingredients in the proven doses for optimum effectiveness. That's why we are so proud to be launching Rest-Fully. Finally people have a natural AND effective sleep solution they can rely on."
According to the University of Maryland Medical Center, approximately 40 million American's suffer from chronic sleep difficulties and 6 out of 10 adult Americans report having sleep problems a few nights a week. This not only leads to issues with concentration and memory, but it has been associated with serious health issues such as diabetes, high blood pressure, stroke, and depression.
There's nothing more frustrating than lying awake night after night trying to sleep. Rest-Fully works quickly to help you fall asleep and stay asleep. "I love the fact that Rest-Fully not only improves the quality of your sleep," says Crossen, "But the non-addictive formula allows you to wake up without feeling groggy or with that 'hangover' feeling."
For more information about Rest-Fully, visit http://www.amrion.com/rest-fully.html and click on the video tab.
About Amrion Nutraceuticals, LLC
Amrion Nutraceuticals has more than 70 years of combined supplement formulation experience. The foundation for every Amrion product starts with the exhaustive review of hundreds of scientific studies that support and prove the health benefits of each ingredient. Everything they do, from the formulation of complex, efficacious health formulas to the customer experience on the website or telephone, is dedicated to exceeding customers' expectations. As such, customers can be confident that the products they buy will perform as promised. And if a customer is not satisfied with a product for any reason, their purchase is backed by a 100% satisfaction guarantee. For more information about Amrion Nutraceuticals, LLC, including a full list of their product offerings, visit amrion.com.
# # #