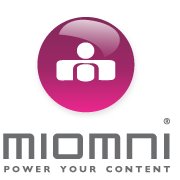 Mike Venner Miomni CEO said, " Miomni are looking forward to enhancing its existing and new clients experience with the launch of its new platform version. This demonstrates the company's constant drive for excellence for our Clients."
(PRWEB UK) 28 December 2011
Miomni are proud to announce the release of its highly successful middleware platform. Version 2.5 improves on a number of key features which allow Miomni's customers to stay ahead in the competitive arena of Multi-Platform Digital Media.
The platform is split into three main areas; Asset Management, Advanced Search and Content creation. Through a user friendly interface: videos, animations, products, feeds, images, music, and competitions can be accessed, managed and distributed to multiple syndication points; TV, Web, Mobile & Media Centre.
Miomni's syndication platform allows channel owners to distribute their content and User Interface through to multiple platforms and devices including Mobile, Web and connected TV vastly extending the reach of their digital channels. This includes the ability to Syndicate content to community networks and track its effectiveness without the need to run multiple systems to manage or distribute your assets and at the same time build your online presence.
The Miomni Technology platform enables a robust Asset Management System, so channel owners can easily encode, upload and manage high-quality programming. In addition, Miomni's Content Management System allows the design and layout of User interfaces and page build for Web, TV and Mobile platforms.
This then represents an economical solution as it means that you are only paying once for original content to be digitised which can then be accessed & stored in all formats securely in one system.
The systems incorporates Intuitive Productivity Tools to make Content Editors more effective and / or automate repetitive tasks along with unsurpassed Front-End Tools and Capabilities which includes community building tools and fully customised, branded Players with state-of-the-art interfaces.
There are also a wide range of Monetisation Tools for monetising video content, including video-on-demand (PPV), Download to Own or Rent, targeted advertising, sponsorship, subscription, and e-commerce. This allows customers to mix and match the model that works best for them and react to changing market conditions.
To meet the needs of the industry there are superior Digital Rights Management tools, including Microsoft DRM, password protection, geo-blocking, and more to keep your valuable content secure and safe.
In order to ensure global reach we have an end to end, self-managed, hosted platform which is syndicated by the world's leading Edge Cache Carriers
Support of Multiple Languages with Localisation of any asset record's properties and content files.
The system as backed up by full tracking and Reporting across all platforms
With offices in London and the USA, Miomni provides a multi-platform digital media solution delivering user interface, high-quality video content, interactive applications and e-commerce, to multiple platforms with full advertising capabilities. Miomni uses a proprietary content and asset management system, incorporating a single integrated database for "over the top" global digital video delivery.
Miomni also has the advantage of in-house creative services for advanced multi-platform User Interface (UI) design, User Experience (UX) and navigation solutions, covering all viewing experiences.
"lean back" (10ft - TV with remote)
"lean forward" (2ft - PC with mouse and keyboard)
"hand held" (1ft - touch screen mobile or tablet)
Miomni Ltd
Head Office: Angel House, Angel Mews London N1 9HH - Tel: +44 (0) 207 837 1116
US Office: Miomni Corporation, 3940-7 Broad Street #305, San Luis Obispo, CA 93401 - Tel: +1 805-540-4578
Email: info(at)miomni(dot)com
Web: http://www.miomni.com
###