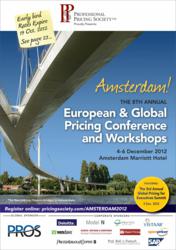 With global membership and Conferences in North America, Europe and now Asia, as well as instantly available online training, the Pricing Society is the irrefutable option for any corporation seeking to maximize pricing and profits
Atlanta, GA (PRWEB) November 21, 2012
The Professional Pricing Society (Pricing Society), supporting pricing education and training in 75 countries, announces the milestone of 4000 members and growing at its upcoming 8th Annual European & Global Pricing Conference and Workshop at the Marriott Hotel in Amsterdam, December 4-6, 2012.
Experts from around the world will convene in the Netherlands' capital to discuss pricing strategies and trends to maximize profitability. The 2011 Pricing Society's European & Global Conference in Barcelona was the largest pricing education event ever held in Europe, and this year's event seems no different. A hallmark occasion of the organization, the oldest and largest pricing brain trust, the Amsterdam Conference will feature five full-day workshops, one two-day workshop, 4 keynotes and 12 breakout sessions.
"Since the economic downturn of 2008 there has been strong and steady membership growth as the pricing discipline becomes a strategic component for enterprises in a hyper-competitive world marketplace," said Kevin Mitchell, the Pricing Society's president. "With global membership from China to Chile, Australia to Finland, Conferences in North America, Europe and now Asia, as well as instantly available online training, the Pricing Society is the irrefutable option for any corporation seeking to maximize pricing and profits."
This year's conference will also feature the 3rd Annual Global Pricing for Executives Summit, a strategic event targeted to and led by senior executive professionals. Attendees will learn applicable and effective tools to succeed in pricing, how to address pricing challenges and processes to gather information needed to accurately price products and services.
Five expert speakers will discuss the latest advances in pricing strategy; the Executive Summit presentations are as follows:
December 5th, day two:

"Why Pricing Needs Top-Level Alignment, and How to Get It" from Leo Piccioli, managing director, Staples Argentina
"How to Frame the Opportunity to Drive the Highest Return" from Brian Sharp, vice president global pricing, Sealed Air Corporation
"Keeping Pricing Simple Can Add to the Bottom Line" from Malcolm Youll, vice president services development, Cargotec Corporation
"Pricing Through Complexity: Lessons Learned" from Janene E. Liston, head of pricing EAME, Syngenta AG
"The Answer to Survival in Today's Business World is Pricing" from Roberto Bedotto, global pricing director, Honeywell Process Solutions
For complete information on the 8th Annual European & Global Pricing Conference and Workshops in Amsterdam, or for research and resources related to the profession of pricing, visit the Professional Pricing Society at http://www.pricingsociety.com
About the Pricing Society
The Professional Pricing Society (Pricing Society) is the world's only professional society dedicated solely to pricing training and education. Its mission is to nurture a growing community of professionally accredited pricing professionals while staying committed to disseminating pricing expertise throughout the business world. The Professional Pricing Society provides pricing professionals with current strategies, market trends, analysis, research and resources from today's leading pricing experts and technology. For more information on membership or events visit the organization's website at http://www.pricingsociety.com