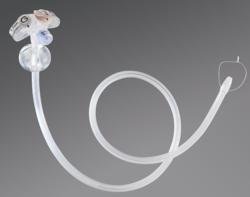 Brecksville, OH (PRWEB) March 06, 2012
Applied Medical Technology (AMT) has announced the introduction of its G-JET™ Low Profile Gastric-Jejunal Enteral Tube. The low profile feeding tube, (also called a G-J button), features many design improvements over other G-J enteral feeding products. Transgastric feeding tubes, such as the G-JET, deliver nutrition to the small intestine (jejunum) as well as provide gastric access for people who cannot ingest their nutrition orally.
AMT G-JET™ Buttons are designed to offer less clogging, increased safety and improved comfort. The button's unique internal tube geometry provides a 60% increase in cross sectional area over other G-J buttons, providing better flow. Additionally, the G-JET button's lumen has fewer sharp corners which further helps prevent clogs. By reducing clogs, fewer replacements are expected.
G-JET™ Buttons also greatly reduce the risk of misconnecting jejunal and gastric feeding sets, which is an important safety feature. To avoid accidentally feeding the stomach instead of the jejunum, feeding sets and their corresponding ports have different shapes and are color-coded.
Additionally, "G" and "J" identification is clearly printed on mutually-exclusive ports as well as molded into closure straps for tactile identification. Gastric and jejunal safety plugs on the button are molded into distinctive shapes, providing further tactile differentiation.
The G-JET™ Button is designed to be a more comfortable alternative to other G-J buttons. Similar to AMT's well-known Mini ONE® Balloon Buttons, the G-JET Button's balloon is shaped like an apple to cover more surface area and minimize leaks at the stoma site. It seals better to reduce leaks that can lead to gastric ulceration and to hypertrophic granulation tissue.
Also like the Mini ONE Balloon, the G-JET Button provides the lowest profile external bolster on the market as well as enhanced stability on the skin's surface.
G-JET Buttons are available in pediatric sizes (14 French), a first for low profile G-J tubes. Other available sizes are 16F, 18F and 22F, and a range of stoma lengths from 1.0 - 3.5cm.
The G-JET Button, as well as all other AMT devices, is proudly made in the United States of America.
AMT is located at 8000 Katherine Boulevard, Brecksville, OH 44141. Telephone: 800-869-7382 Email: cs(at)appliedmedical(dot)net Web: http://www.amtinnovation.com
#20922