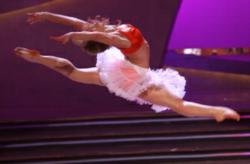 I don't know if I was more excited or nervous that I was actually going to be on the show [So You Think You Can Dance].
Atlanta, GA (PRWEB) May 24, 2013
Started in 1982, AMTC's SHINE event is a biannual talent convention held in Orlando. 2013 marks AMTC's 31st anniversary. SHINE is a ministry run by three generations of the same family, starting with supermodel Millie Lewis and her daughter, Carey Lewis Arban.
This summer's SHINE will be scouted by top agents, managers, casting directors, and music professionals including the New York Film Academy, The New York Conservatory for Dramatic Arts and XP Media. They are kings of Hollywood and Christian casting directors. They seek top talent and they find it at SHINE.
Brittany Giles, Bloc Talent Agency confirms that "SHINE is an opportunity to not only meet industry professionals from across the nation but also to work on your craft in a week's time." She adds that, "AMTC consistently offers amazing seminars, panel discussions, and showcases while staying centered in Christ. It's a blessing to be able to meet with all of the new talent each season and encourage them on their journey."
SHINE is also an educational event where over 40 VIP seminars are taught by industry professionals during the six-day convention. Since success in the entertainment industry is about 'what you know' and 'who you know,' SHINE offers both.
SHINE is a platform for God's performers to walk through the right doors: doors that can make a difference, doors that can launch a career and doors that allow His stars to shine for Him. Ted Baehr, MovieGuide & AMTC Board Member states that "Equipping these talented actors, models and talent to go into the Entertainment Industry and redeem the mass media of entertainment is extremely important, these are the people whom God has called to redeem the culture. I am grateful to speak at AMTC."
SHINE is a launching pad. It is the highway to Hollywood: a way of integrity. It's fast, smooth, well-lit, and safe. Families travel it together.
AMTC makes sure their performers are prepared for this life-changing convention through The Bridge Training Program: a most unique talent preparation curriculum combining VIP know-how with spiritual preparation.
Performers who wish to attend SHINE must audition and be accepted. For audition dates, locations and registration please visit http://www.AMTCaudition.com.