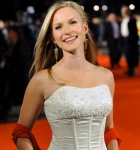 ...What a blessing to share how God is moving through the faith-based film movement across our country and how AMTC's ministry is a part of this journey.
Atlanta, GA (PRWEB) June 24, 2013
Jenn Gotzon is an award winning actress whose career break playing President Nixon's daughter Tricia (cameo role) in Ron Howard's Oscar-nominated FROST/NIXON launched her as a rising star and top Christian actress. Jenn Gotzon has starred in ten Christian worldview movies including: GOD'S COUNTRY, DOONBY, ALONE YET NOT ALONE and I AM GABRIEL. Earlier this year, Jenn became the spokesperson for New Evangelization Television (NET TV) on Verizon Fios and is currently an AMTC mentor and scout.
In January 2013, Dustin Tavella booked a supporting role in soon-to-be released RUMORS OF WARS. He is an outstanding and innovative singer/songwriter and is becoming a YouTube sensation. His comical musical scenarios and Italian grandmother Maria, who is featured in almost every video, make for a positive, humorous experience. He sings, plays guitar, drums and piano. Dustin also produces and writes.
Alycia Pascual Pena just recently completed a Neutrogena MTV commercial with VJ Lenay Dunn. She has been in print advertisements with JC Penney, AAFES, Family Dollar, Neiman Marcus, Cheerleading.com and Army Air Force Exchange Service, as well as an American Airlines TV Commercial.
AMTC is hosting its summer convention in Orlando with over 70 anticipated VIPs scouting 690 talented actors, models, singers, dancers and comedians from all over the world. These performers are children, teens and adults who are called by God to become His role models and ambassadors in the mission field of entertainment.
AMTC equipped, prepared, and promoted several of God's talented role models who are taking to the stage this time in order to encourage the new performers at this upcoming convention where they will perform for the world's leading agents.
Success in the entertainment industry is about "What You Know" and "Who You Know." The AMTC experience will teach you what you need to know, and then put you in front of who you need to know. God is raising His performers to enter the kingdom of entertainment in love and excellence.
AMTC SHINE event spans six full days at the Gaylord Palms Resort in Orlando. Each day is packed with workshops by industry experts and a variety of talent showcases for all ages. SHINE concludes with one-on-one interviews for the performers with 50 to 100 top film, fashion, theater, and music executives. SHINE is where careers start for talented newcomers. Actors, Models & Talent for Christ is a 501c3 non-profit ministry. It is also a mission and a movement of performers from all over the world who feel called to the fields of arts, entertainment, and media. Performers who wish to attend SHINE must audition and be accepted.
For audition dates, locations and registration please visit http://www.AMTCworld.com/auditions.