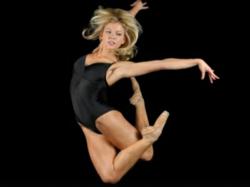 I don't know if I was more excited or nervous that I was actually going to be on the show [So You Think You Can Dance]
Atlanta, GA (PRWEB) June 29, 2013
AMTC is hosting its summer convention in Orlando with over 70 VIPs scouting 690 talented actors, models, singers, dancers and comedians from all over the world. These performers are children, teens and adults who are called by God to become His role models and ambassadors in the mission field of entertainment.
AMTC equipped, prepared, and promoted several of God's talented role models who are taking to the stage this time in order to encourage the new performers at this upcoming convention where they will perform for the world's leading agents.
Austen Williams attended SHINE as a 5 year-old child at AMTC, booked a TV Commercial in NYC that year which ultimately paid her way through college. She's been modeling, acting, singing and dancing for nearly 20 years and had done more than 40 regional and national jobs by the time she graduated from high school. In December 2012 Austen was crowned Mrs. Texas. Additional work includes fifteen fitness videos, two films, and four television shows. In addition to her work as an entertainer, she has been a personal development instructor, a stylist, an acting coach, a manager of a multi-million dollar fitness facility, a business owner, and an inspirational speaker to nearly 15,000 students.
At only four years old, Lindsey Blackwell performed at AMTC's Summer 2010 convention. Lindsey has been featured in Luster's Pink print ads, Essence and Sophisticate magazines. She was also cast in the movie, THE CHANGE UP, starring Ryan Reynolds and Jason Bateman.
Bailey Tippen began professionally acting and modeling after she competed in the Winter 2011 AMTC. She has been in feature films, commercials, fashion shows & music videos. She was cast as Young Yolanda in the short film NEVER ALONE which received the best short film award at the Georgia Entertainment Gala, as Naomi in the TV movie "The Watson's Go To Birmingham" and as lead for a Belk Back to School Commercial.
Success in the entertainment Industry is about "What You Know" and "Who You Know." The AMTC experience will teach you what you need to know, and then put you in front of who you need to know. God is raising His performers to enter the kingdom of entertainment in love and excellence.
AMTC SHINE event spans six full days at the Gaylord Palms Resort in Orlando. Each day is packed with workshops by industry experts and a variety of talent showcases for all ages. SHINE concludes with one-on-one interviews for the performers with 50 to 100 top film, fashion, theater, and music executives. SHINE is where careers start for talented newcomers.
Actors, Models & Talent for Christ is a 501c3 non-profit ministry. It is also a mission and a movement of performers from all over the world who feel called to the fields of arts, entertainment, and media. Performers who wish to attend SHINE must audition and be accepted. For audition dates, locations and registration please visit http://www.AMTCworld.com/auditions.