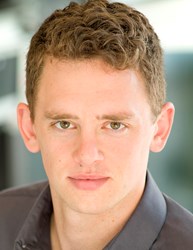 The moment I stepped foot on set, I started smiling. I couldn't help it. I was truly happy and it was clear this is where I was supposed to be.
Atlanta, GA (PRWEB) August 27, 2013
He wasn't planning on leaving his wife of 14 months in Iowa and going by himself, "But doors started to open in Atlanta and with my wife's support I made the move. She moved down four months later." Adam was pursuing his dreams to make it big in acting. It was something he desired after he "graduated college from the University of Northern Iowa with a teaching degree and quickly realized that my calling was not in the classroom, but instead acting."
Participating in the AMTC SHINE Convention in Orlando one year ago solidified Adam's dream. He says, "Cyndee McClintock [AMTC's Atlanta Team Leader], spent three hours on the phone with me helping guide my next steps into this journey. I used the knowledge gained from AMTC and my conversation with Cyndee to look for film castings."
Currently, Adam works as a personal trainer to make ends meet in between auditioning and booking roles. His many roles over the past year include short films: Flowers In May, Missing In Action, Twisted Minds and Night Stalking; the pilots shows: REDD and Peachtree Battle Field; supporting or lead roles in: First Impressions (starring Lamman Rucker), CurveBall (starring Lynn Whitfield, Rockmond Dunbar and E. Roger Mitchell); and feature film RUN. Since Adam is a fitness model it only makes sense that he also landed a role in a fitness video.
AMTC, a 501c3 non-profit ministry dedicated to making good bolder in film, fashion, music and theater, is currently holding auditions in major cities across the country for the next official SHINE talent showcase being held December 31- January 5, 2014 at the Gaylord Palms, as confirmed by corporate representatives. They are looking for performers ages 4 and up who want to become positive role models in the entertainment industry.
Photo courtesy of Adam's agency, Privilege Talent
For more information on AMTC or to find an audition near you, please visit: http://www.AMTCaudition.com.