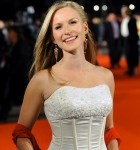 "I always want to do movies where I can really impact or inspire audiences through the art of storytelling."
Atlanta, GA (PRWEB) December 19, 2013
The SHINE '14 AMTC guest star list is long and impressive: Julian Silva (National Tour Les Miserables), Austen Williams (Mrs. Texas, Mrs. America), Abbie Cobb (Suburgatory, Mom's Night Out), Damien Horne (The Farm - Country Rock Trio), Navia Robinson (Being Mary Jane), Jenn Gotzon (AMTC Presenter, Mentor, Scout and Coach, Hollywood actress: God's Country, Alone Yet Not Alone, Doonby and more), James Toller (international fashion model), Nicole Smolen (8 Days, Marvin, Marvin, Happiness Runs), John Montes (AMTC L.A. Team leader, scout and vocal coach, currently part of the a cappella group TEN on NBC's Sing Off), Mark Daugherty (The Amazing Spider Man, Teacher of the Year and more), Brandon Chase (The Voice) and Brandin Jenkins aka Brandin J. (Reed Between the Lines, Meet the Browns and Welcome Home, Roscoe Jenkins).
Approximately 550 performers will be privileged to listen and learn from the stars wisdom and experience in Q&A panels and seminars.
During the year, AMTC screens talented people in several cities across the Nation who audition for its program in which the performers' talents culminate at the SHINE convention. AMTC teaches what they need to know and connects them with agents and managers who can then create larger opportunities for the performers.
For the past 30 years, non-profit Christian ministry Actors, Models and Talent for Christ (AMTC) has been searching the country for actors, models, singers, dancers and comedians who are called to become positive role models in the entertainment industry.
Carey Lewis, Chief Serving Officer for AMTC, says, 'AMTC has become a shepherd of God's movement into media: the most influential mission field on earth. God is preparing an army of performers and it's AMTC's job is to find them and guide them up the mountains of arts and entertainment.'
AMTC has been the starting point for hundreds of successful artists and grads that you can see and read about at http://www.AMTCworld.com.