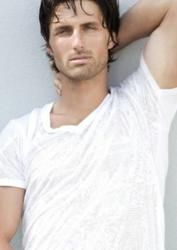 I kind of fell into modeling. I was traveling through Atlanta when I passed by AMTC auditions ....the rest is history.
Atlanta, GA (PRWEB) May 18, 2013
Callahan previously attended the Actors, Models and Talent (AMTC) SHINE showcases in Orlando, Florida, and received interest from top agents. He is currently signed with Pretty Penny Models, Fusion NY, Elite London, and I Love Milan!
Born and raised in Varnell, GA, this southern farm boy and college quarterback had never traveled outside the South but now models in Milan and London.
Callahan says, "I kind of fell into modeling. I was traveling through Atlanta when I passed by AMTC auditions and my mom talked me into auditioning, although I really didn't want to...the rest is history."
Breaking into the European modeling market is not very easy but Callahan has the right look and right style for these Italian designer suit companies and the European modeling market. Booking three major campaigns for one season (Spring/Summer 2013) is remarkable and a major feat for a seasoned model, let along a fairly new one.
But Callahan is still a down to earth, Georgia boy who has a love for, "working out, nutrition, and martial arts...cooking and helping other people meet their goals in exercise and nutrition."
He says, "Although I'm a model, I'm a food fanatic. My dream job would be to travel and do a show like the Zimmerman Show or Man vs. Food." He adds, "I live in the top of a barn on a 265 acre farm where I also grow my own veggies and fruits. My goal is to be self-sufficient and off the grid." Off the grid? It certainly can't ever be in modeling -- Caleb's face is etched in high fashion because of all of his campaigns.
The whole package all together: good looks, smart, career, a love to cook, God-loving man and still down to earth. But, too bad, ladies, this man's heart is taken by his high school sweetheart and soon to be engaged love of 8 years!
AMTC, a 501c3 non-profit ministry dedicated to making good bolder in film, fashion, music and theater, is currently holding auditions in major cities across the country for the next official SHINE talent showcase being held July 2-7, 2013 at the Gaylord Palms, as confirmed by corporate representatives. They are looking for performers ages 4 and up who want to become positive role models in the entertainment industry.
For more information please visit: http://www.amtcaudition.com