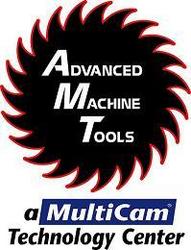 AMT welcomes all to join its staff and industry experts on May 19 in Suwanee, GA, and May 21 in Charlotte, NC.
Suwanee, GA (PRWEB) May 12, 2010
Advanced Machine Tools (AMT) announced today that it is opening its doors for open house events at its Georgia and North Carolina Technology Centers.
AMT welcomes all to join its staff and industry experts on May 19 in Suwanee, GA, and May 21 in Charlotte, NC, 9:00 to 5:00. AMT will demonstrate CNC routers, CNC plasma cutters, tooling and CAD/CAM software useful in a wide range of manufacturing applications, including sign making, cabinetry, aluminum and steel fabrication, point-of-purchase displays, and more.
AMT's open house events will showcase the MultiCam 3000 Series router, 1000 Series plasma (with Hypertherm Powermax torch), MultiVision digital registration technology, and EnRoute 4 software with the new Rapid Texture feature. (Plasma and MultiVision at Georgia location only.) The MultiCam 3000 Series CNC router is a powerful machine that can be customized to meet the requirements of a wide range of applications including sign making, cabinetry, aluminum fabrication and many others. MultiCam has incorporated the motion-control principles of router cutting into its CNC plasma machines, producing an amazingly smooth, clean cut.
The 1000 Series CNC plasma can be equipped for light to medium duty plate cutting. MultiVision is a digital camera/software based system that can visually recognize media registration marks and automatically compensate for skew, distortion and image drift. The MultiVision system easily integrates into exising workflow while providing the additional flexibilty of utilizing state-of-the-art CAD/CAM software for enhanced tool path generation as well as advanced 3D sign and graphics applications. EnRoute Software is intuitive CAD/CAM software designed to provide an easy way to create and output files. EnRoute combines a comfortable design interface and simplified output process, resulting in a complete and powerful CAD/CAM solution at an excellent value.
AMT's staff will demonstrate machines and software, answer questions and discuss applications. Vendor representatives will be on hand to answer questions and to assist in the demonstrations, including representatives from SAi/EnRoute and Onsrud Cutter.
About Advanced Machine Tools:
Advanced Machine Tools is an authorized distributor of MultiCam CNC routers, CNC plasma, CNC laser, CNC waterjet, and CNC knife cutting systems, as well as CAD/CAM software, CNC router bits and tooling, plasma consumables, heaters and coolers, training classes, and technical services. Advanced Machine Tools serves the woodworking, metal fabrication, plastic fabrication, sign manufacturing, composite, solid surface, and HVAC markets, among others. Based in Suwanee, Georgia, Advanced Machine Tools also has a Technology Center in Charlotte, North Carolina. For more information, visit amtcnc.com.
Contact:
Mark Balloun, President
770-831-1998
###